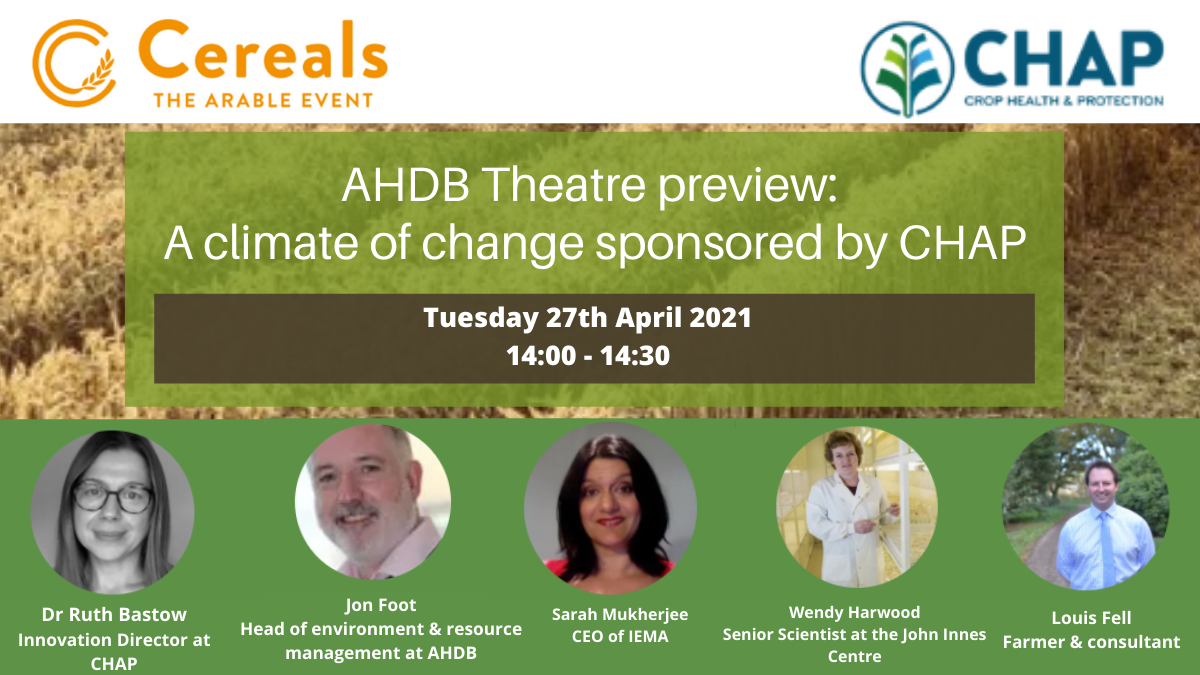 AHDB Theatre preview: A climate of change sponsored by CHAP
Farmers have a major contribution to make in protecting and enhancing the environment and reducing our carbon footprint. This live webinar, chaired by Dr Ruth Bastow, innovation director at CHAP, offers a sneak preview into the science and farming practices being discussed in the AHDB theatre at the Cereals Event in June.
Introduction from Jon Foot, head of environment and resource management at AHDB

• Sarah Mukherjee CEO of IEMA considers how farming businesses can prevent and manage the impacts of climate change – as well as creating resilient and sustainable landscapes for food and wildlife.
• Prof Wendy Harwood, senior scientist at the John Innes Centre, looks at how gene editing can make cereal crops resistant to disease, reducing the need for chemical applications in the field.
• Farmer and consultant Louis Fell explores how farmer collaboration can deliver landscape-level environmental benefits, such as protecting watercourses and recovering wildlife, as part of DEFRA's ELMS trials.
Sponsored by

Webinar & Session Sponsor
CHAP, a UK Agri-Tech Centre funded by Innovate UK, brings together leading scientists, farmers, advisors, innovators and businesses to understand industry challenges, drive research and innovation and develop and trial solutions that transform crop systems. We work with partners to translate and promote these solutions for market adoption and improved crop productivity. Our mandate is to increase crop productivity for future generations through the uptake of new technologies.