13 May 2020
Amazone reveal AmaSelect upgrades for Cereals-LIVE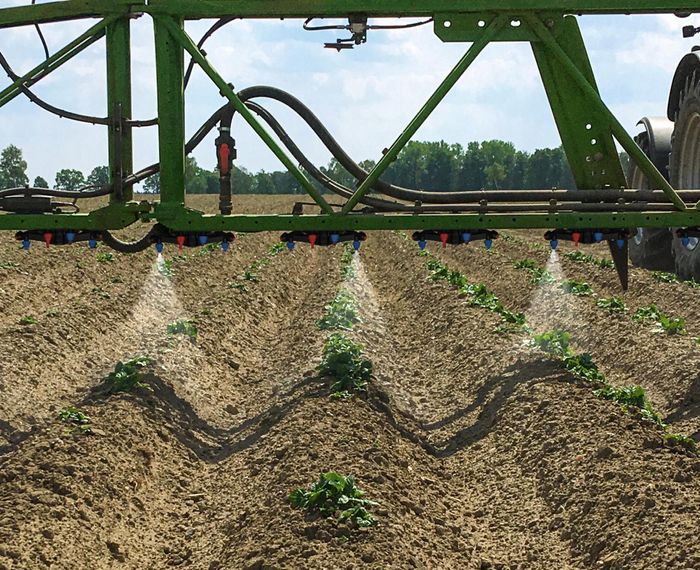 2020 AmaSelect upgrades designed to aid sustainable chemical usage
The unique, electrically-operated, AmaSelect quad nozzle body enables the sprayer to always have the optimum nozzle or nozzle combination in use. Irrespective of speed and rate, the 7 possible combinations of nozzle can be triggered to change so that droplet size is always kept in the desired range. The system can also be used on either 50 cm or 25 cm spacings as desired and the nozzle bodies are switched individually for the minimum of overlap in short work, enabling savings of up to 5% on the chemical bill to be made. The upgrade to the system now includes:
AmaSelect Row – when working in row crops such as potatoes, sugar beet or maize, the AmaSelect system, utilising either a 25 cm or 50 cm spaced nozzle, selects the best matching nozzle body immediately above the crop so that the chemical is applied purely to the crop and not to the bare soil in between. This lessens the environmental impact by reducing amount of run off as well as reducing the overall amount of chemical used by up to 65%. The sprayer can revert back to a standard full-width blanket application at the press of button in the cab.
AmaSelect Spot – each individual 25cm nozzle can be activated individually from a shape file loaded into the TaskController function of the ISOBUS. This means that a pre-loaded weed map can be generated by drone and then an application map generated which the sprayer follows in the field. Again spot areas of infestation can be targeted; reducing the overall chemical usage down as well as reducing the amount of crop lost if, for instance, spot spraying glyphosate against black grass in a cereal crop.
AmaSelect CurveControl – the flexibility of AmaSelect in terms of nozzle spacing, nozzle size, nozzle type and output make the system ideal for maximising chemical efficacy yet at the minimum of input cost. When spraying around bends, the AmaSelect system can now also be used to reduce the amount of overspray and underspray by switching to a bigger nozzle or nozzles where the boom is going quicker and to a smaller nozzle where the boom is going slower - or off where it is going backwards. Acceleration sensors on the boom tips, which are already there from the SwingStop horizontal boom movement damping system, tell the CurveControl which nozzles to switch. This gives a cost-free alterative to installing a PWM nozzle system onto a sprayer whilst keeping the flexibility and the cost-saving of the AmaSelect system.