14 May 2022
Amazone extend drill combination range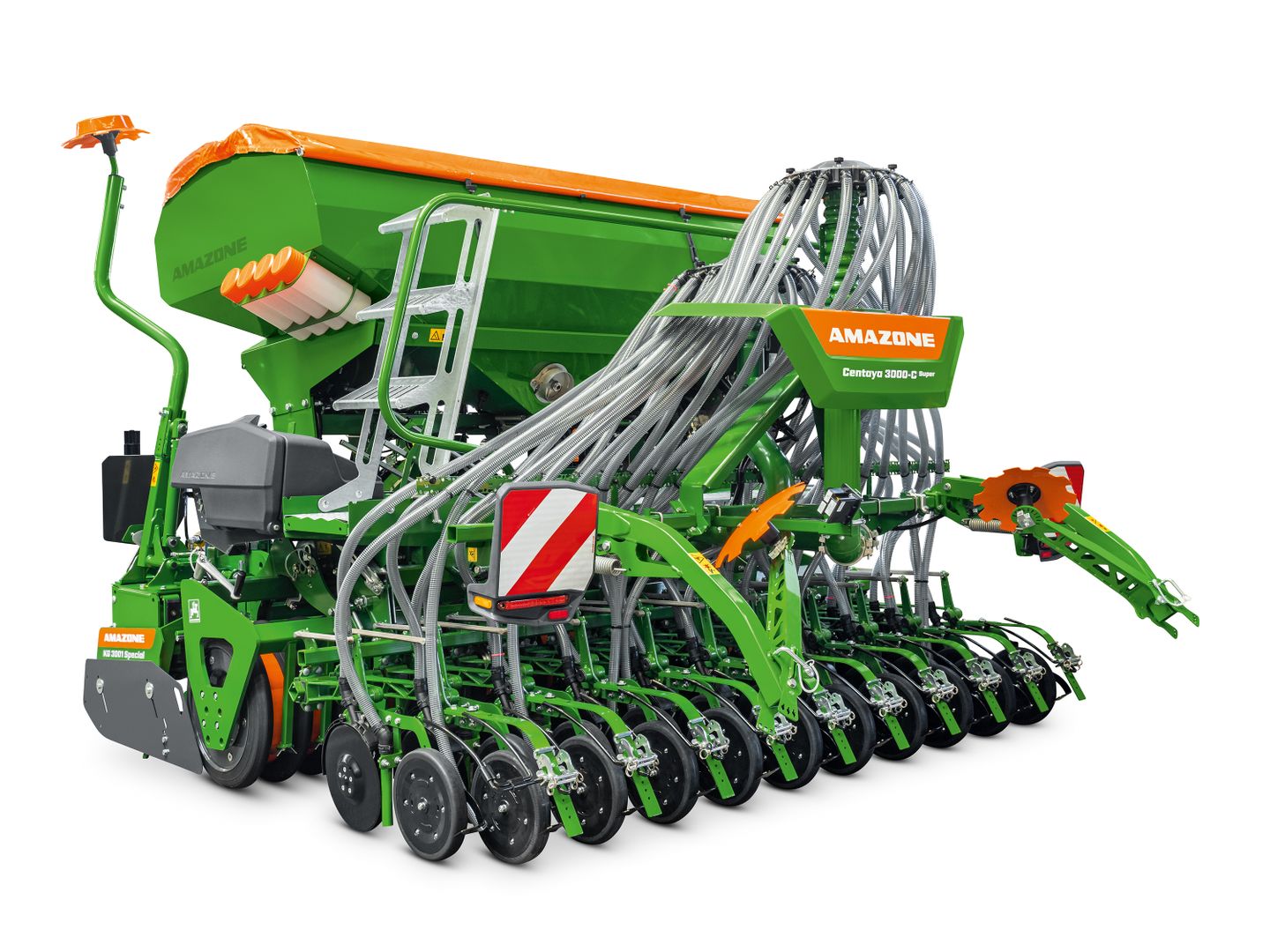 2,000 litre split twin-chamber hopper
The 2,000 litre twin-chamber hopper can be divided in a ratio of either 60:40 or 70:30 depending on the customer's requirements. The special profile and the positioning of the metal hopper close to the tractor ensure a low lifting power requirement. This new hopper means that the new Centaya-C Super now offers the option of sowing seed and fertiliser, two different seed varieties or companion and under sown crops in addition to the main cash crop. These are of great benefit for weed suppression and for increasing erosion control and biodiversity. In addition, the simultaneous application of fertiliser is an efficient solution that leads to rapid seedling development and high field emergence. This sowing technique offers farmers and contractors a variety of establishment methods and a high degree of flexibility by the combination of seed and fertiliser. Moreover, fuel and time can be saved through a reduction in the number of passes.
Seeding at up to three different placement points
The Centaya-C Super can be equipped with either the RoTeC pro single disc coulter or the TwinTeC double disc coulter.
The 400 mm RoTeC pro coulter enables the application of two media utilising the single-shoot process. In this case, the individually-metered media are brought together in the single disc coulter and fed to a single entry point using the same conveying system. This enables, for example, fertiliser to be placed directly in the row along with the grain.
In conjunction with the TwinTeC double disc coulter, it is even possible to apply two different seed types or seed and fertiliser at two different entry points utilising the double-shoot process. In this case, the first medium is embedded in the seed furrow via the TwinTeC coulter and the second medium is conveyed to an additional outlet on the TwinTeC coulter via a separate conveyor system and placed in the soil in front of the depth guidance roller. This offset placement means, for instance, that fertiliser can be used precisely, thereby ensuring a more comprehensive supply to the plant.
The Centaya-C Super can also be used in conjunction with the GreenDrill 200 catch crop drill for the simultaneous sowing of catch crops or fine seeds. This combination allows a third material to be applied to the soil surface via baffle plates. In this respect, the seed is fed directly from the 200 litre mounted hopper down to baffle plates behind the seed drill.
QuickLink quick coupling system
The Centaya-C Super harrow-mounted seed drill can be very easily and quickly connected without tools to the various Amazone soil tillage implements via the QuickLink quick coupling system. Depending on the soil conditions, it can be combined with the KE 02 rotary harrow models or the KG and KX rotary cultivators. The Centaya-C Super can also be combined with the CombiDisc compact disc harrow for use on very light soils.