Demounts Offer Flexibility And Output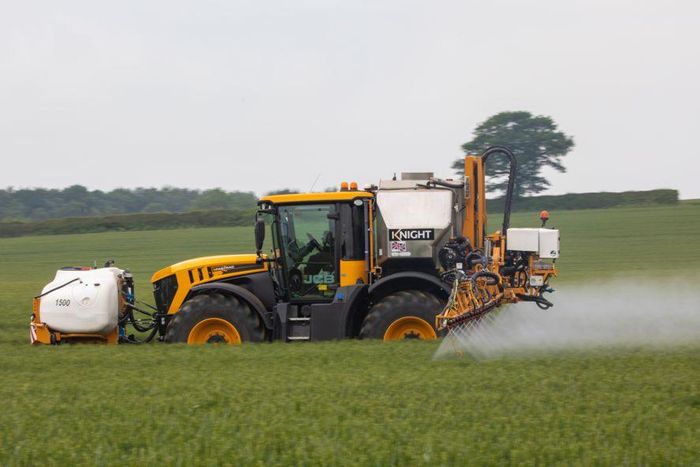 Knight Farm Machinery's JCB de-mount sprayers transform a JCB into a versatile, high-capacity self-propelled sprayer that offers optimum performance from both sprayer and tractor.
The sprayers are available with 2,500 or 3,000 litre main tanks, to which 1,300, 1,500 or 1900 litres can be added by attaching a front mounted tank – a combination that offers optimum spraying capacity.
Both the main sprayer and the front tank attach and detach from the tractor in little longer than it takes to attach/detach a three point-mounted implement, releasing it for other important work around the farm – which optimises tractor use too.
Sprayers are available with booms up to 30m in width. Two styles are available – the 'V-fold', that packs tight behind the tractor or the 'Gull Wing, which folds above the machine's main tank.
All sprayers use a Muller control system which manages all main functions and records all spraying operations, while also offering full ISOBUS connectivity.
This enables the sprayer to work with GPS as well as other third party ISOBUS terminals, offering variable rate control and integration with the rest of the farm's fleet and precision farming systems.
They also use Knight's MAXImiser plumbing, which reduces the amount of pipework in the machine and the volume of spray solution remaining at the end of work.
Pressurised spray line circulation with automatic cleaning make it very easy to rinse out spent spray solution and dispose of it, and to clean the sprayer after work, which reduces any delay in releasing the tractor for other work.
Knight's de-mount sprayers come with a choice of diaphragm pumps. The front tank is fitted with a simple three-point linkage and has a in-built set of parking legs as well as clean water tank and hand wash tank.