24 May 2020
Fendt Sprayer Technology Update at Cereals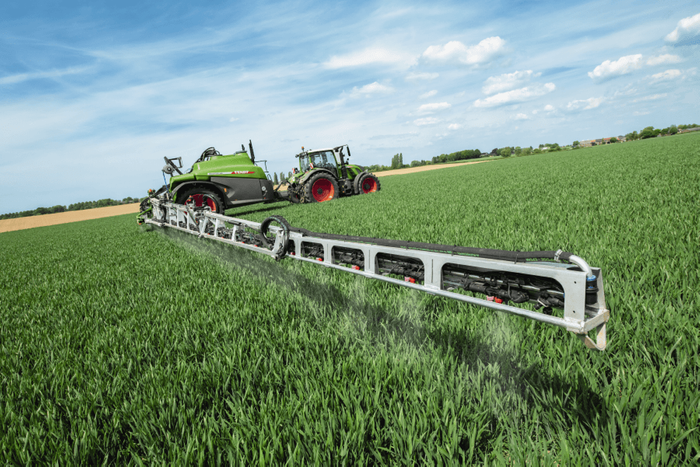 The Fendt RoGator 300 has seen some new and important updates for 2020, cementing its place as one of the trailed sprayer front runners this year. The range included three models with tank sizes from 4400L to 6600L all mounted on the single beam chassis concept developed on the RG600 self-propelled machine. This enables the RG300 to have an outstanding steering angle reducing crop damage at headlands despite the large tyre offering available, this now coupled with the independent suspension which allows for an improved and safer ride on the road with Stability Control in addition to the ability to level the chassis while crossing side hills has raised the bar once again.
The booms have seen an update in terms of size and technology, all models in the range can now be equipped with a 36m triple fold boom adding to the previous twinfold set up. Adding to this is the new AGCO Boom Height Control system which utilises 4 sensors across the boom allowing for a better overall picture of the terrain while improving the user interface making operation easier and allowing for better decisions on set up for different field conditions. The sprayers can be kitted out with a choice of three different nozzle body offerings including a quad body, the RG300 comes standard with individual nozzle control available, with the tractor only requiring the matching level of accuracy. This attached with the Optinozzle control that aims to increase potential forward speed of operation while maintaining a set level of drift ensures that the valued product is applied accurately to the crop with the least amount of over application on the headland.
The spraypack is an identical design of that of the RG600, pulling on the 10 years plus experience of the self-propelled machine. Fitted with a high capacity centrifugal pump and options on fast fill and high flow plumbing for high fertiliser rates, all easily cleaned with the new autorinse system. This ensures that customers are getting the most up to date sprayer, providing a technology leading design that is future proofed for years to come.