HOLMER Sugar Beet Harvesters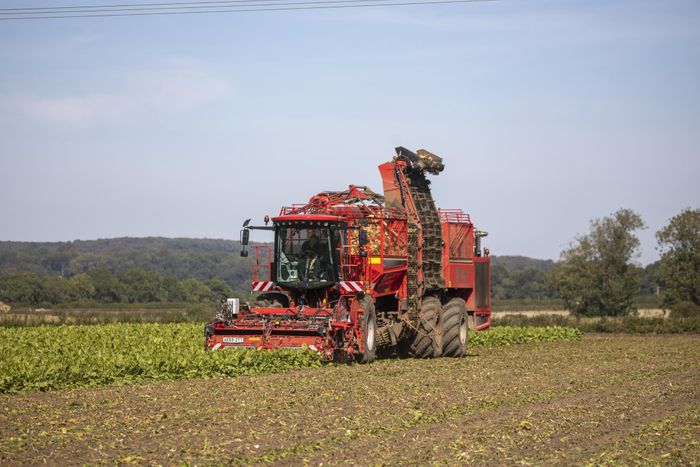 Agrifac UK are the sole importers of all HOLMER Sugar beet equipment for the Country. Since introducing the product line into the UK market alongside this merge, there are now over 60 HOLMER machines operating across the country.
The HOLMER Terra Dos T4 is the best beet harvester ever - whether with 2 or 3 axes. That is why the Terra Dos T4 is built on a modular principle: Practical innovations are directly incorporated into all series. The same parts also optimize the supply of spare parts, the uniform operating concept ensures user friendliness and the identical structure always guarantees you the best service.
The same modules make life easier:
Mercedes engine with 626 hp / 460 kW - for economical work
Wide elevator, sieve and unloading belts - for maximum throughput
Identical transverse and longitudinal scraper floors - for the fastest possible unloading
Intuitive operating concept HOLMER SmartDrive - for ideal driving comfort
Directly driven axles with automatically controlled advance - for traction and tracking on slopes
Sustainable overall concept - for your success
Consistent lightweight construction and therefore up to 3 t lighter than comparable competitor models - because soil protection begins with the vehicle weight
High-strength steels S700 - for stability in the toughest conditions
Perfect hydraulic design - for maximum performance in use
Richard Ivatt of A & R Ivatt Contractors, spoke to us during the 2018/19 beet season about how he was finding his fourth HOLMER machine, the T3-40.
"I would now never move away from a HOLMER machine", comments Richard, "These machines are so easy to drive - everything is where you expect it to be."
"It was a friend of mine that originally recommended HOLMER to us." Richard continued, "They described the brand as the 'Rolls Royce' of beet harvesters, and now that we have our own, I truly believe that too!"
Get in touch with our Harvester Sales Manager, Matt for more information on the range of HOLMER and Agrifac sugar beet harvesters and equipment on:
T: 07860 288 973
E: m.carse@agrifac.com
www.holmer-maschinenbau.com