22 May 2023
Max Life Weldable Wear Strips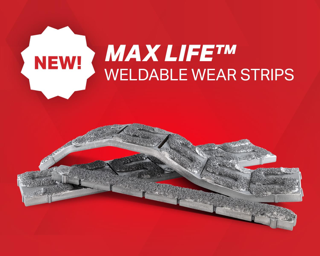 The company, already renowned for the quality of its products, believes this will further extend their effective working life and so help users reduce their wearing metal costs – a valuable saving in the current economic climate.
"The treatment can extend the working life of parts by between 300% and 600%", says Ian Clayton-Bailey, Managing Director of Bourgault UK, the Canadian parent company's UK subsidiary.
"Maxlife is a heat-applied weld pool containing solid chunks of tungsten carbide, which are spread evenly across the face of the wearing part.
"Unlike other hard surface coatings, the weld deposit does not chip or flake when subjected to high impacts, and is extremely tough.
"It is a cost-effective option for high wear applications across a range of parts and has already proven effective when used on harrow tines, sweeps, spikes, shanks and disc scrapers. We are also showcasing our Max Life Weldable Wear Strips that farmers can apply themselves. These are very cost effective and extensive field testing has been completed to prove its durability.
https://www.youtube.com/shorts/0Zf5qppA86I