30 May 2022
Minimizing the impact of weight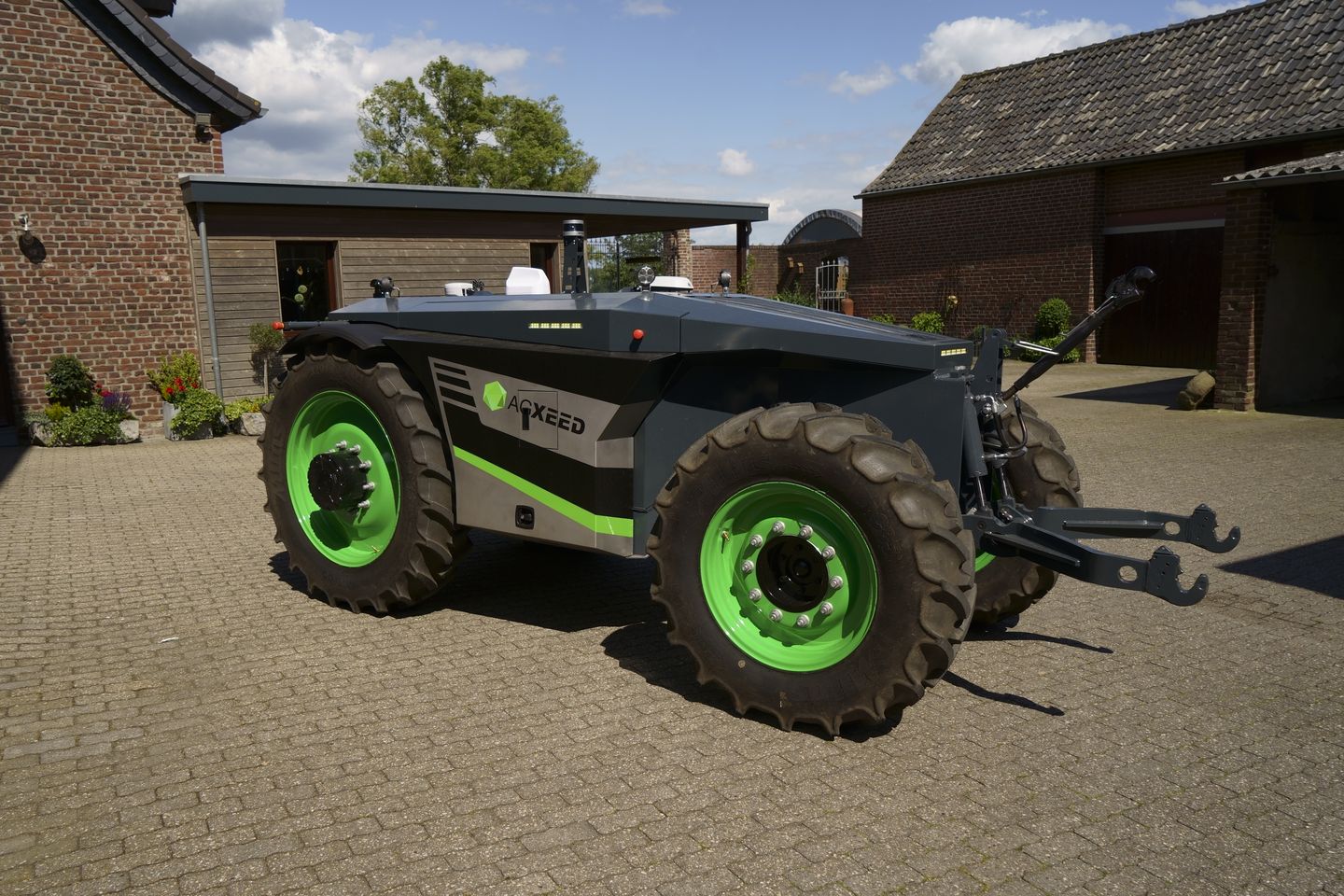 AgXeed reveals a 55kW 4 wheel version of their AgBot, the 2.055W4
The new model is designed to meet the requirements of today's farmers and contractors in different regions. It provides a 55kW power source, coming out of a 2.9l 4 stroke diesel engine, connected to a generator to provide electrical power to the rear wheels, optional PTO and high voltage connector. To hook up standard implements also this model provides a standard Cat. 2 front linkage with a lifting capacity of 1,5t and a Cat. 3 rear linkage with a lifting capacity of 4t. Up to three proportional DA spool valves, load sensing and an ISOBUS connector round off the list of options. Something that will delight a lot of farmers is the wide range of track widths that this machine covers; from 1.50m up to 3m this machine will provide all the versatility that is needed; from special crops up to grass land applications.
Tires start at 270'ies and go up to 710; combined with a total empty weight of 3,2t this is exactly what we need to decrease soil compaction.
For this machines we see a big potential in hoeing applications. Hoeing is something that is highly needed to reduce chemical crop protection, but hoeing is time consuming and that is what farmers don' t have. Autonomy is part of the answer to this conflict. To achieve a high workload, AgXeed AgBots are not limited to specific tasks. The standard hitch for conventional implements gives everyone the possibility, to use the machines around the year. It is the same for the new 2.055W4; next to hoeing the machine is also highly suitable for seedbed preparation, seeding and crop care applications. A new area of applications will be entered, when using this machine in grass land applications; it is perfect made for mowers, tedders and swathers.
Something that combines all AgXeed AgBots is the precision and continuity in how those robots carry out their tasks. Responsible for this is the unique planning and reporting web tool that is supplied with the robots. The AgXeed portal manages your clients, fields and tasks, as well as your machinery fleet. Set up your combinations of AgBots with implements including their specific parameters with just some mouse clicks.
Once the combinations are created assign them to a specific routing and the task is created. All tasks can be stored for later execution, or can immediately be sent to the combination for direct execution. The final engagement at the field will be done with a safe remote control that complies with the highest safety standards. After that, everything will work automatically. If you want to check your machine in the meantime, just switch on the camera remotely and check what's going on.
The machine will be shown on several shows and demonstrations during summer, autumn and winter 2022 and deliveries start in spring 2023. Pre orders are up for signing.
This project has received funding from the European Union's Horizon 2020 research and innovation program under grant agreement No 970619.