A mobile biofertiliser solution. On the road to revolutionising small-scale biogas plants.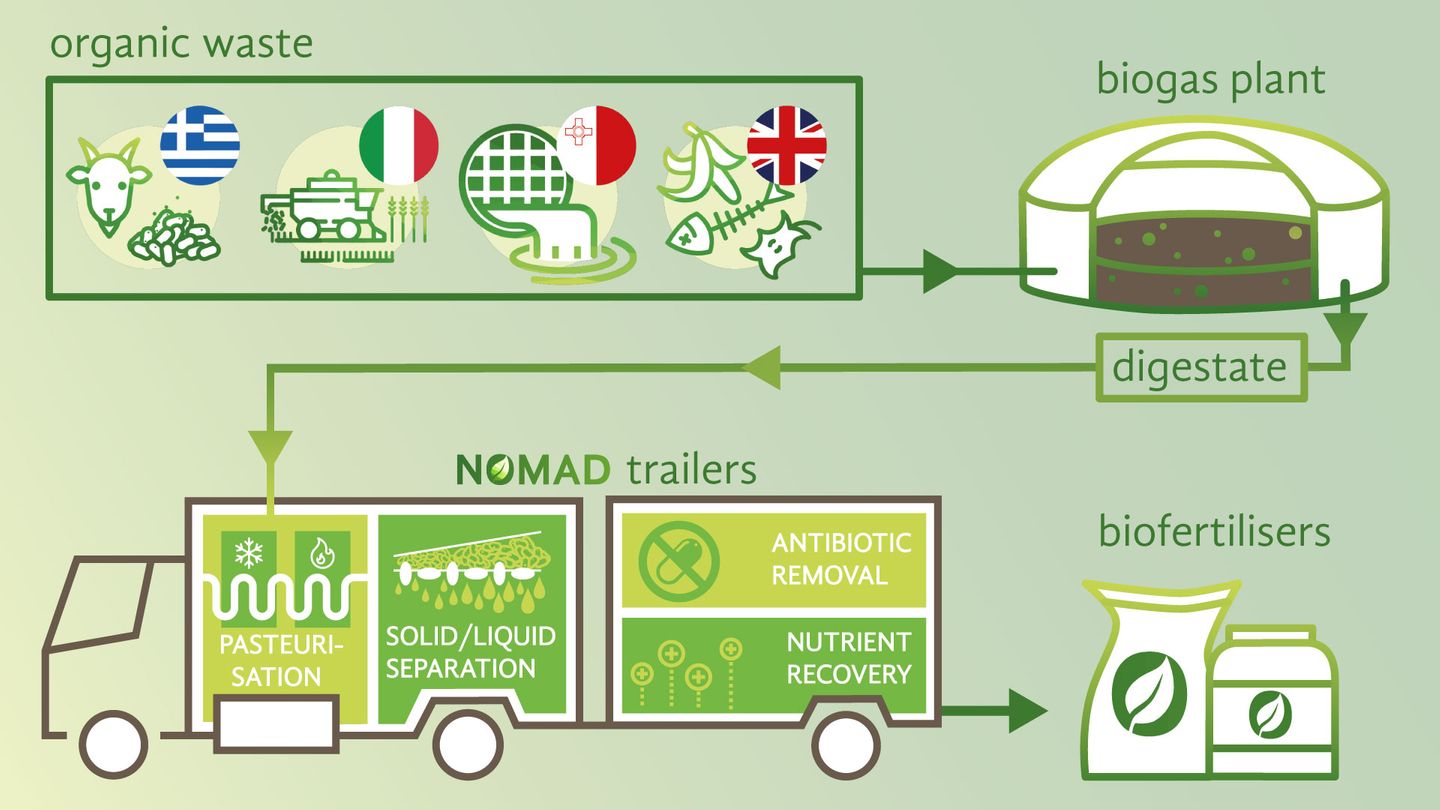 Biogas plants produce a product called digestate, which can be used as fertiliser. However, digestate nutrient composition can vary enormously depending on the feedstock and it can also contain harmful substances such as antibiotics, plastics or heavy metals. Where biogas plants lack land space for spreading digestate, its storage and disposal costs can represent a considerable financial burden to plant operators. In the face of our climate emergency and an urgent need to adopt circular economy practices, two factors are also becoming increasingly important: reducing carbon impacts and improving biosecurity.
Under the EU funded project "NOMAD", engineers and scientists along with a range of other key stakeholders have taken on the task of ensuring that the potential of this low carbon fertiliser is fully exploited. They have designed and built a mobile solution that processes digestate to recover nutrient compounds in compact form. Technology will also be tested to reduce antibiotic residues. The system features two 40' trailers that can be transported to serve multiple biogas plants with shared costs helping to improve process economics. For smaller biogas plants, this makes the management of biofertiliser much more attractive.
---
The first of two trailers is currently being shipped to Greece for to commence the trial campaign. The second trailer will follow in a few months. After the demonstration trials with animal manure-derived digestates in Greece, the trailer will move on to Italy, where it will be tested with digestate from crop waste and then to Malta with municipal wastewater-derived digestate. The trailers will return to the UK for a final test with digestate from food waste. The idea behind trialling NOMAD with four different types of digestate across four countries is to test the equipment performance across a variety of contexts. It gives also the opportunity to gain insights into country-specific challenges that need to be addressed - from regulatory bottlenecks to geographical terrain logistics and contamination issues.
---
Those based in the UK who are interested in this technology can visit the NOMAD team at the Cereals 2022 event in June. For those not living in the UK, there will be demonstrations in all test countries.
To keep up to date with the latest developments please visit the website www.projectnomad.eu or follow the project on Twitter (NOMAD_H2020) and LinkedIn (NOMAD_H2020).