20 May 2020
New Holland BigBaler 1290 High Density wins Machine of the Year 2020 Award in the Forage Harvesting Category at Agritechnica 2019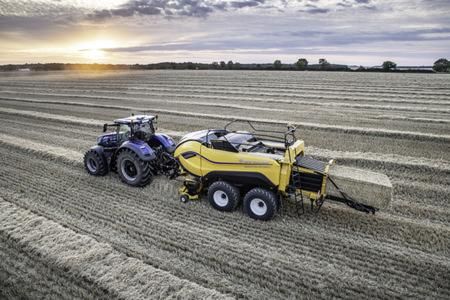 The New Holland BigBaler 1290 High Density was awarded the title of "Machine of the Year 2020" in the Forage Harvesting Category by a jury panel of journalists representing the leading European agricultural publications. The machine received the coveted award for its technical innovation and the benefits it brings to customers, with selection criteria focusing on innovative features, performance, productivity, cost of operation, ease of use and operator comfort.
Carlo Lambro, New Holland Agriculture Brand President, stated: "This award is testament to New Holland's heritage of baling excellence of more than 30 years. It is a well-deserved recognition of the teams at our Centre of Harvesting Excellence in Zedelgem, Belgium, and at the CNH Industrial Design Centre for their work developing and building the BigBaler 1290 High Density, which is the most efficient large square baler in its segment today.
The new BigBaler 1290 High Density raises the bar on productivity and comfort, with bales of up to 22% higher density than conventional large square balers, significantly increasing transport and bale handling efficiency. The unique patented Loop MasterTM knotting technology ensures best-in-class solid binding and protects the environment and the forage by eliminating twine offcuts. The new MaxiSweep™ pick-up helps feeding crop at higher rates, resulting in increased capacity and performance. The unique driveline concept delivers a soft start up resulting in greater comfort for the operator and overload protection for the tractor's driveline. The short drawbar concept ensures excellent visibility for the operator and manoeuvrability. Comfort is further enhanced with a new intuitive user interface using the large IntelliView IV touchscreen display. A range of automated features, such as the IntelliCruise™ technology system which automatically adjusts tractor speed, add to the productivity and comfort of the BigBaler 1290 High Density.
---
New Holland Agriculture's reputation is built on the success of our customers, cash crop producers, livestock farmers, contractors, vineyards, or groundscare professionals. They can count on the widest offering of innovative products and services: a full line of equipment, from tractors to harvesting, material handling equipment, complemented by tailored financial services from a specialist in agriculture. A highly professional global dealer network and New Holland's commitment to excellence guarantees the ultimate customer experience for every customer. For more information on New Holland visit www.newholland.com
New Holland Agriculture is a brand of CNH Industrial N.V. (NYSE: CNHI /MI: CNHI) a global leader in the capital goods sector with established industrial experience, a wide range of products and a worldwide presence. More information about CNH Industrial can be found online at www.cnhindustrial.com
---
https://www.facebook.com/NHAgriUKandROI/
https://twitter.com/NHAG_UKandROI
https://www.instagram.com/NEWHOLLANDAG/
https://www.youtube.com/user/NewHollandAG