17 Apr 2023
New Holland's commitment to sustainability continues with new T6.180 Methane Power Dynamic Command™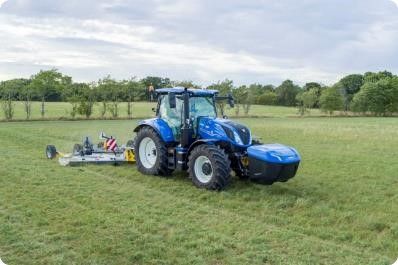 New Holland's commitment to sustainability continues with new T6.180 Methane Power Dynamic Command™
New Holland launches new T6.180 Methane Power Dynamic Command™ featuring the Dynamic Command transmission, that grants higher efficiency, increase in autonomy and CO2 savings.
The benefits of the T6 Methane Power extend beyond the engine to include the fleet management and agronomic services provided through the PLM Connect portal, delivering multiple financial and environmental advantages
New Holland's commitment to sustainability is also confirmed by the investment in Bennamann to bring livestock farmers a circular economy business model based on their local production of biomethane, offering the potential for energy autonomy.
Bennamann's Circular Approach with New Holland tractors was awarded the Bronze Medal at the SIMA Innovation Awards 2022
Modena, 6th November, 2022
New Holland Agriculture continues its work to accelerate the pace of decarbonization in agriculture, a commitment that has contributed to establishing New Holland as the Clean Energy Leader, with over a decade of active promotion and development of renewable fuels and sustainable agricultural technology.
The most recent development is the extension of the multi-award-winning T6 Methane Power tractor range with the T6.180 Methane Power Dynamic Command™ featuring Dynamic Command transmission.
This unique tractor, with a 2.6-metre wheelbase and 10.5 tonnes Gross Vehicle Weight, combines the high performance of the proven NEF 6-cylinder Natural Gas (NG) engine with the exclusive 24x24 Dynamic Command transmission developed in-house by New Holland, raising the bar on efficiency and achieving fuel savings of up to 9% over the T6.180 Methane Power. It is a real game changer in the sector offering a significant increase in autonomy and CO2 savings due to the higher efficiency achieved.
Dynamic Command Transmission, developed following extensive customer consultation and an intensive research and testing process, was designed to offer even more gears in the most frequently used operating ranges and it has been successfully introduced on other models in the T6 range such as the T6.180 and the T6.160, as well as the T5 product.
It features the acclaimed Dual Clutch technology to deliver high efficiency and productivity. The clutches are designed for fast gear changes combined with a fully automated gearbox always set the ideal ratio and reduce the need for operator input. The result is high productivity with low operator fatigue.
The T6.180 Methane Power features New Holland's automation and advanced software that further raise the levels of productivity and efficiency. Automated functions such as the exclusive Ground Speed Management II control package, enable the operator to maintain consistently high productivity through the working day. Integrated Telematics enables the farmer to always remain connected to their tractor through MyPLM™ Connect and manage their fleet and farm data to maximize efficiency.
Carlo Lambro, Brand President at New Holland Agriculture said: "New Holland's vision is to be the farmer's reliable, sustainable partner for every season and we have a long. The T6.180 Methane Power is the ultimate game changer for us: it debuted in 2019 as a production unit and now we already have units working in customer farms across Europe – from Lithuania and Norway to Spain – and there are numerous orders in the pipeline with more enquiries coming in all the time. It's definitely a reality".
The Road to Carbon Neutral Farming: a long-standing commitment to sustainability
This latest addition to the T6 series is confirmation of New Holland's investments in research and development to give to its customers the best-in-class technologies that increase efficiency and productivity, in a sustainable way.
The T6 Methane Power tractor has been the culmination of New Holland's work in the development of methane technology for agriculture: the first 100% natural gas tractor on the market. A real game-changer that has been recognised with multiple awards.
The story of the multi-award-winning T6 Methane Power tractor range started with the first prototype presented in 2013 followed by an advanced concept which was unveiled in the US in 2021. In 2022, the T6.180 Methane Power, which today is available with New Holland's acclaimed Dynamic Command™ transmission, won the prestigious Sustainable Tractor of the Year award twice – first as a concept, then as a production tractor.
The brand's interest to sustainability is not a recent development: New Holland launched its "Clean Energy Leader" strategy in 2006, committing to renewable fuels, emissions reduction systems and sustainable agricultural technology long before the Paris Agreement that established a global approach for tackling climate change. Seven years later, it unveiled the first methane-fuelled tractor prototype, taking the first steps on the path to energy-independent, carbon-neutral farming.
New Holland is taking sustainability further, moving towards providing farmers with the tools to create an "Energy Independent Farm". To this end, it has invested in a partnership with Bennamann, a UK-based start-up focused on innovation around the collection, processing and storage of methane with the aim of unlocking circular economy benefits for customers and delivering a local, clean energy revolution.
Biomethane, when processed naturally on livestock farms, exists in abundance and is able to power cleaner, highly-efficient internal combustion engines: the Bennamann solution captures, processes, refines and stores Biomethane deriving from liquid manure so that it is immediately ready for use to create energy for the farm. With their solution, New Holland and Bennamann not only address many of the environmental issues faced by livestock farmers but they help reducing and stabilize the running costs and they also provide a valuable, new revenue stream enabling further investments in their business.
New Holland's innovations in the progress towards a carbon neutral economy have been recognized by a Bronze Medal at the SIMA 2022 Innovation Awards by an international jury panel of industry specialists assisted by a network of technical experts: the awards recognize the merits of products, services or technologies that constitute a genuine breakthrough in their sector.
Mark Howell, Alternative Fuels Global Product Manager, explains: "The Road to Carbon Neutral Farming maps our path to achieving our CO2 emissions reduction targets through the exploration of alternative fuels in agriculture and research in sustainable agriculture. Since we launched our Clean Energy Leader strategy, we have made considerable progress, and today we are able to bring farmers the benefits of a circular economy, enabling them to be energy independent."
Gilles Mayer, Alternative Fuels, Global Product Management, adds: "For over 15 years New Holland has led the way in researching alternative fuel products in order to provide the agricultural industry with real world solutions towards its goal of sustainability. We know the biggest challenges for our farmers is how to minimize their costs, maximize productivity while reducing their carbon footprint and finding ways of becoming energy independent. We want to give them the tools to find accessible solutions that improve efficiency in the most responsible and environmentally friendly way."
[ENDS]
New Holland Agriculture's reputation is built on the success of our customers, cash crop producers, livestock farmers, contractors, vineyards, or groundscare professionals. They can count on the widest offering of innovative products and services: a full line of equipment, from tractors to harvesting, material handling equipment, complemented by tailored financial services from a specialist in agriculture. A highly professional global dealer network and New Holland's commitment to excellence guarantees the ultimate customer experience for every customer. For more information on New Holland visit www.newholland.com
New Holland Agriculture is a brand of CNH Industrial N.V. (NYSE: CNHI /MI: CNHI) a global leader in the capital goods sector with established industrial experience, a wide range of products and a worldwide presence. More information about CNH Industrial can be found online at www.cnhindustrial.com
Press contacts:
Alice Brignani
New Holland Agriculture
Pr & Sustainability, Global
Phone: +39 347 2126801
Email: alice.brignani@newholland.com
For the latest press releases from New Holland brand on the CNH Industrial Newsroom visit:
https://media.cnhindustrial.com/EUROPE/NEW-HOLLAND-AGRICULTURE