07 May 2020
Oilseed Rape Disappearing from the Rotation
The wet winter of 2019/20 has put the final nail in the coffin of oilseed rape for many UK farmers. Poor initial establishment, pest damage, and then winter waterlogging has seen many OSR crops fail; much of what remains looks set to produce low yields. Andersons Loam Farm model reflects these industry-wide trends, and this has led to a significant shift in cropping plans for 2021.
The latest figures for Andersons Loam Farm model are shown in the table below – illustrating the performance this farm has achieved for the past two harvests, and the prospects for the coming season and the one following.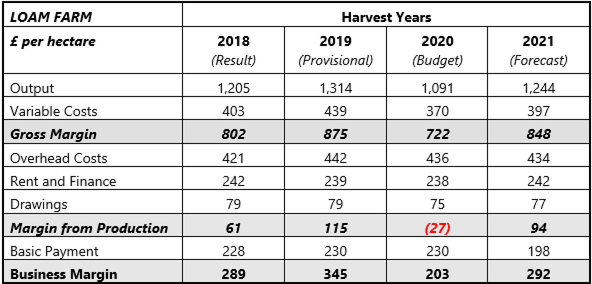 Andersons have been using their Loam Farm Model since 1991 to track the fortunes of British combinable cropping farms. It comprises 600 hectares, partly owned and partly rented and is based on real-life data.
In 2018, yields were affected by the summer drought, but higher prices partly compensated for this. Extra costs meant that returns from farming were at least positive, but lower than had been seen in earlier years.
The 2019 harvest saw yields exceed expectations. With reasonable sale prices (a mix of forward selling and spot sales through to spring 2020 when markets moved upwards) profitability improved despite an increase in both variable and overhead costs.
The upcoming 2020 shows the effects of the unusually wet autumn and winter. The standard cropping on Loam Farm has been 150 Ha each of feed wheat, milling wheat, oilseed rape and spring beans. This year only 70 Ha of feed wheat and 80 Ha of milling wheat got planted. The usual 150 Ha of oilseed rape was drilled, but 50 Ha was ripped-up this spring as it had failed. Spring plantings were unusually high with 200 Ha of spring beans and 150 Ha of spring barley going in.
As well as planted areas, projected yields have had to be altered in the budget as well. Both winter wheat and oilseed yields are lower than the farm would traditionally expect. As a positive, crop prices are reasonably firm – although the large area of barley planted nationally means a big discount to wheat. Also, costs have been saved due to a less intensive spray programme. Fuel has also been cheap this spring and some stores (seed and fertiliser) have been retained for next year. Even so, the weather has had a significant effect on budgeted farm profitability – pushing the business into a loss-making position from its farming operation. It is reliant on the BPS for overall profit.
Looking to 2021, the farm has decided to make a significant cropping change. It has been decided that OSR is no longer viable and too risky with front-loaded costs. A new rotation has been planned - 200 Ha 1st feed wheat; 100 Ha 2nd milling wheat; 100 Ha spring barley; 100 Ha spring beans; and 100 Ha winter oats. This means the farm has 1/3 spring cropping, helping control grassweed issues and spreading workload. With the change of cropping policy (and poor cashflow from harvest 2020) it has been decided to 'pause' machinery investment for a year. One side-effect of moving away from oilseed rape is that more grain storage is required. The cost of investing in an expanded grain store is included in the figures.
The dip in profitability for 2020 caused by a 'difficult' season can clearly be seen. At present, the BPS is available to smooth-over such problems. The phase-out of the BPS poses challenges to Loam farm and the many businesses like it to do something different. Loam Farm has been proactive with cropping changes to make itself more resilient in the face of potentially more difficult business conditions ahead. With change is undoubtedly coming, those businesses that grab a head-start in improving efficiency will be best placed to prosper in the new environment.
Andersons provide an update on Loam Farm each year for the Cereals Event. With the cancellation of Cereals 2020, the Consultants of Andersons would be pleased to discuss any aspects of arable farm business management on an individual basis. Please visit www.andersons.co.uk for contact details.