05 May 2021
OPICO to launch HE-VA's Disc Roller Contour XL at Cereals Event 2021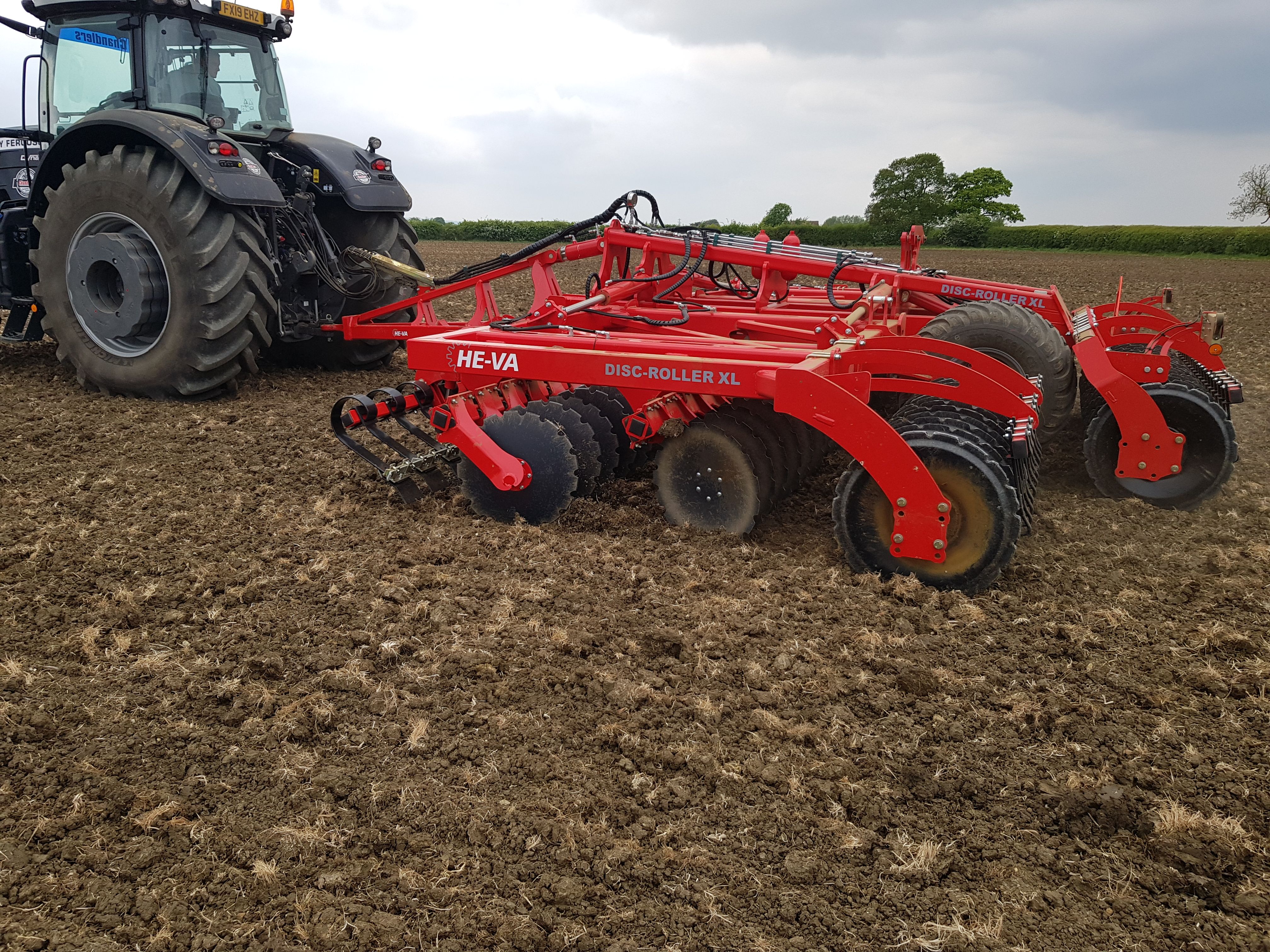 In response to demand for a heavier disc type machine HE-VA has developed the Disc Roller Contour XL designed for more aggressive cultivation than its smaller sibling, the Disc Roller Contour, affords. Suitable for both primary and secondary cultivations at high speeds - from stale seedbed preparation to the destruction of standing cover crops. The versatility the Disc Roller Contour XL brings to the farm saves passes, decreases machine cost per hectare and provides the best start possible for the coming crop.
Other features are similar to the existing Disc Roller Contour range with the notable difference being the new larger 610mm Sabre discs which allows the Disc Roller XL to work at depths of up to 160mm (6 ¼"). Deeper cultivation allows the Disc Roller Contour XL to cope with greater amounts of crop residues as well as the destruction of cover crops.
HE-VA Product Manager Glenn Bootman commented, 'The Disc Roller XL can be used for both shallow and deep cultivation and incorporation of crop or cover crop residues. This one pass, high speed, versatile cultivator ticks the box for reducing cost per hectare – essential in today's modern farming systems'
HE-VA's unique contour following system comes into its own when working at shallow depths to ensure all undulations of the field are evenly cultivated to the same depth across the full working width. Depth control is simple to use with the disc depth hydraulically operated from within the tractor cab.
Unlike traditional concave discs or aggressively angled discs that lift soil and cut out "grooves" forming a corrugation effect under the surface, HE-VA's DSD, depth synchronised disc, system works to move the whole soil surface and is effective in both shallow soils and at depth. The 610mm Sabre discs pull themselves into the ground which assists penetration in hard conditions enabling more soil to be moved and trash to incorporated across the full working width.
The Disc Roller Contour XL is available as a rigid machine, working widths 2.75m & 3.25m and as a two or three section folding machine. Two section cultivators with working widths of 4.25m – 5.25m and a three-section machine with working widths of 6.25m - 7.75m.
A selection of differing front tools including, Top Cutter, Shattaboards, Slicerboards & Straw Tines which serve to increase the adaptability and versatility of the Disc Roller XL range, are available. For example when combined with a front Shattaboard the Disc Roller Contour XL becomes an excellent tool for working down ploughed land ready for drilling.
HE-VA's Disc Roller Contour XL will be on display for the first time at Cereals Event 30th June and 1st July 2021.
Further technical information from:
Glenn Bootman, HE-VA Product Manager, on 07860 335 297 or glenn.bootman@opico.co.uk