19 May 2020
Amazone Primera 6000-2C goes ISOBUS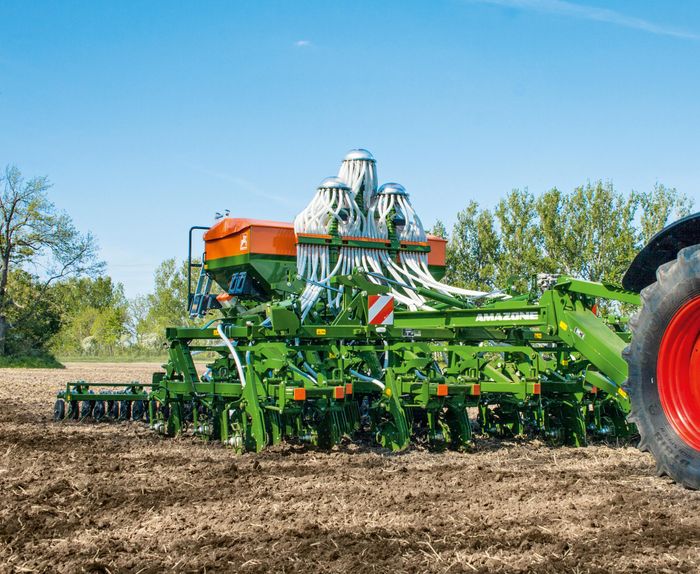 Although it is more than a direct drill as the Primera 6000-2 DMC does what it says in the name, DMC – direct, mulch, conventional. Huge underbeam clearances, and the openers in banks of four rows, mean that the drill can pass through copious amounts of straw and cover crop without any fear of blockage. The chisel openers follow the ground contours via a parallel linkage against individual hoop rollers with the depth set mechanically on a spindle. The narrowness of the chisel opener means that little soil is disturbed but the seed slot is left clean for good seed / soil contact and the micro-tilth generated by the chisel action can then be pushed back into the groove by the following angled hoop rollers .
On the rear, a choice of either the Roller harrow, for light dry conditions or in the spring where moisture conservation is crucial, or the well-known universal Exact harrow, is used to finish off the seedbed profile.
The split 4,200 litre hopper, which can be extended up to 5,800 litres, is carried on flotation 700/45 -22.5 tyres. The twin, electrically-driven metering systems, which feed both seed and fertiliser individually down to the coulter, are controlled via the ISOBUS TaskController meanng that variable rate seeding and automatic shut-off on the headland turns can be implemented . The optional TwinTerminal means that calibration can be carried out down at the drill avoiding the need to climb in and out of the tractor cab. When using the AmaTron 4 ISOBUS terminal, then virtual headlands can be set up for drilling the headlands last as well as automatic tramline creation.
The Primera 6000-2C weighs in at just 6,500 kgs and pulling power is a modest 180 HP for the 6m drill and, due to the little amount of soil-engaging parts and the robustness of the construction, the drill suffers from little wear and tear.