15 May 2020
Research student looks at waterproofing crops with rapeseed oil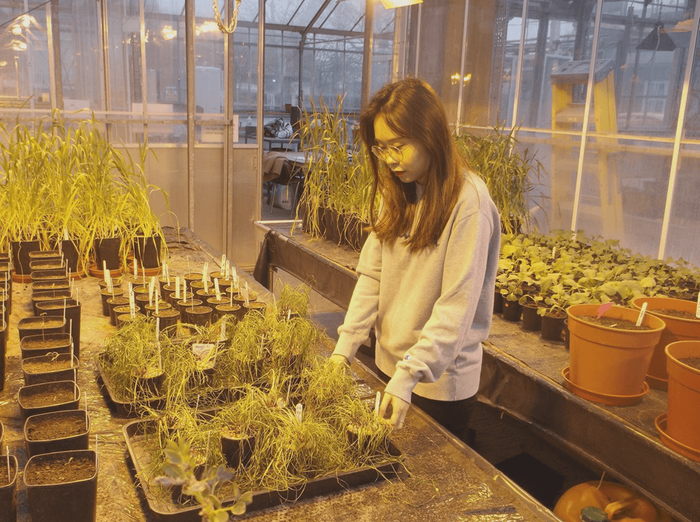 Chinese research student Mengqi Li spent three months before lockdown researching waterproofing plants at Harper Adams University.
The master's student from China Agricultural University, located in Beijing, decided to come to Harper Adams to carry out the research after hearing about the opportunity to study abroad at her university.
She said: "I decided to come and do a research project at Harper Adams, because our university has a programme which gives graduate students the chance to go to an international university to do some research for three months. I think it's a very good opportunity, so I decided to apply. I knew a lot of students from my university that come to Harper Adams to do their master's and it sounded like a good place to come."
Mengqi's research has been looking into the potential use of rapeseed oil to reduce water-loss from plants.
Excessive water-loss from plants can have different consequences for a wide range of crops, such as: diminished growth of grass; reduced shelf-life of fresh produce; and shrinkage of harvested potato tubers during storage which lowers their value.
The correct application of commercial waterproofing sprays (known as film antitranspirants) to plant leaves can help to lower water-loss in particular crops and reduce waste. Rapeseed oil, could be a potentially cheaper, more available and edible source of waterproofing spray.
However, there hasn't yet been sufficient research into using rapeseed oil on a number of plants; including perennial ryegrass, potato tubers and fresh produce, which are the three plants Mengqi's project focused on, by investigating the effect of three concentrations of rapeseed oil had on them.
She said: "I think the problem I've been tackling through my research is a very simple problem because everywhere around the world, plants are in environments that are very difficult for them to grow. Drought is a very important problem to deal with.
"I did most of my work in the glasshouse where I used a machine to spray the plants, which was new to me. It's totally different to what I was doing in China because I was doing work on plant physiology here while I was working a lot on genes back in China.
"My major has been grassland science since I was an undergraduate student, so I've been working on grass for five years.
"Grass is very important to my family and in my country. Our government pays a great deal of attention to environmental protection, especially the grasses as they are important. This is why I decided to study grasslands when choosing my major."
Looking back at her time at Harper, Mengqi said: "Being at Harper Adams has been a very good experience in my life. This is not the first time I've been in another country, I also went to America in 2017.
"I adapted to the new environment very quickly this time. It's been good for me to experience another country. Everyone is very friendly here; they have helped me a lot.
"Harper Adams is in a village; it's very different from my university. I think the village environment is very beautiful and natural, which is very different to Beijing, but I adapted well."