06 May 2020
Seed Terminator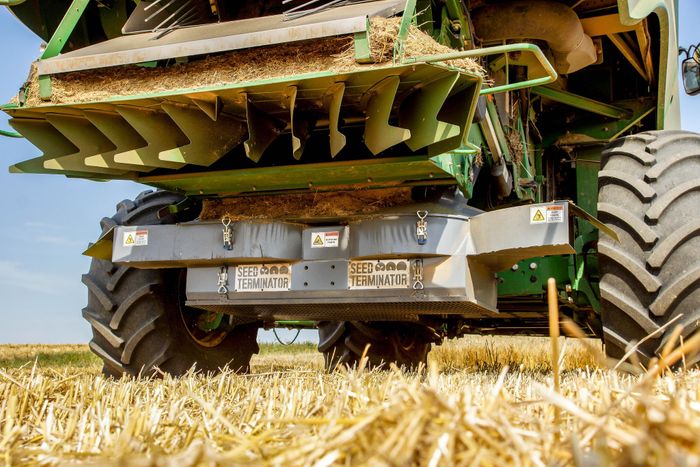 Killing Weed Seeds
Cutting herbicide use with the combine
Seed Terminator almost entirely kills those weed seeds which come out of a combine. The unique technology consists of two high-performance multistage hammer mills which process the residue coming from the sieves.
Especially agronomists struggling with herbicide resistance and organic farmers vastly benefit from reduced weed pressure thanks to this new technology.
New technology from Australia
Approximately 100 units were installed within the last three years on combines in Australia mainly. Zürn successfully implemented the technology in Europe during the 2019 harvest season. It is now available for John Deere, Claas, Case IH and New Holland combines.
"With regard to increasing herbicide resistance and few new product authorisations, we need effective alternatives soon. Thus, we see a huge potential for mechanical weed control like this new concept from Australia", says Zürn Harvesting director Rolf Zürn about the new collaboration.
"Most seeds are spread during harvest by the combine. The Seed Terminator enables us to kill these seeds which are going through the machine. Experienced users and independent research institutes confirm the systems' performance", Zürn adds.
Maximum kill rate
The new technology was invented by the farmer and engineer Dr. Nick Berry who went in depth with this topic for many years as part of his thesis.
To achieve high kill rates, the system uses a combination of four modes of action: shear, crush, impact, grind. Chaff and weed seeds are pushed through three stages of screens with rotators in between.
With this concept, the high kill rate is ensured in a speed range of 2200-3000 rpm. That's of high importance for in-field performance when the com- bine is operating at high loads in tough conditions with high moisture.
Over several years with thousands of hours in the field, the engineers improved the kill per kilowatt, reduced the wear and worked on the cropflow. As an example, the Aero-Impact-2.0 technology reduced the power demand by 30 % through an aerodynamic optimisation of all components (housing, rotor, screens).
The system is optimised to have no impact on the combine's cleaning system. Mill speed, driveline temperature and vibration are monitored as well as blockages on the inlet. With the new tungsten carbide coating, the mills last much longer.
Seed Terminator is now available for John Deere, Claas, Case IH, New Holland and Agco combines. It is perfectly integrated into the combine and mechanically driven by belts.