17 Mar 2020
SENCROP, LARGEST FARM REAL-TIME WEATHER NETWORK IN EUROPE WILL TAKE PART TO THE CEREALS EVENT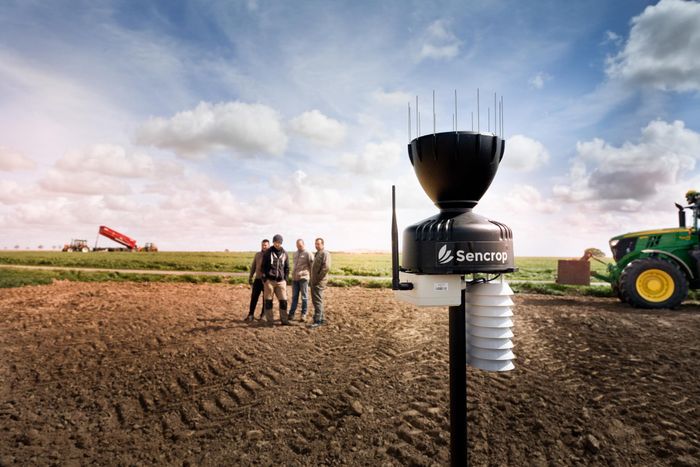 Sencrop, pioneer of ultra-local, on-farm weather data, has announced the acquisition of sensor specialist Visio-Green: the acquisition allows more than 10,000 farmers to connect to Sencrop's data-driven platform, consolidating its position as the European leader in connected agricultural weather data. In June 2020, Sencrop will be proposing its solutions to all farmers looking forward to fine-tuning their local weather-based organisation and input usage through precision farming tools in the coming CEREALS event.
Sencrop provides farmers with an app and 3 connected weather stations for ultra-local ag-weather measures. These 3 stations measure rainfall, temperature, air humidity, windspeed and leaf wetness. They feed the Sencrop app with ultra-local and precise weather information 24/7. From their smartphones, tablets or desk computers, farmers have easy access to real-time information, as well as the possibility to set-up alerts for accumulated rainfall, frost, and humidity among other features; historic data retrieval is also available. This data is shareable among peers and accessible through a connected network.
More than 400 British farmers, including cereal growers, fruit growers and vineyards, are already Sencrop subscribers, using the network of accessible and collaborative 'smart' ag-weather stations to improve day-to-day decision-making and access personalised, ultra-local weather information.
UK's largest supply-only water company, Affinity Water, started using the Sencrop network in sensitive catchment areas. The stations – in a shared, private network – help farmers address stewardship issues on active substances such as carbetamide and propyzamide, optimising the timing of their spray applications.
Visio-Green, 4th French player, with its solid partnerships with European co-operatives, unions and associations will allow Sencrop to fast-track its development of robust, community-based solutions focusing on collaborative and co-operative work practices. Sencrop hopes its platform will see agdistribution players and other service providers offering more personalised advice to their customers, as well as tools promoting high-precision farming. Visio-Green's 1,800 stations are assimilated into the Sencrop network, supported by Sencrop's 50-strong team at its headquarters in Lille, France.
Sencrop's co-founders Michael Bruniaux and Martin Ducroquet said: "We are pleased to be merging with Visio-Green, which operates in areas that complement those of Sencrop perfectly. This partnership will enable us to help Visio-Green customers to adopt a more collaborative and universally accessible tool. They'll have access to the Sencrop app, which is specially designed for use by communities and to promote agronomic services to farmers. Sencrop will be rolling out its Visio-Green station migration process over the coming months."
WIDENING ACCESS TO HIGH-PRECISION FARMING THROUGH COMMUNITY COLLABORATION
Sencrop's solutions are used to help professional farms in their day-to-day decision-making, using ultra-local data collected automatically from individual plots. By analysing this data, harvested from the largest ag-weather and sensor stations network in Europe, farmers, cereal growers, winemakers, fruit and fresh produce growers can optimise management of their agricultural operations by minimising ag-weather, agri-environmental and health risks that could affect their crops. Not only that, it can also help to reduce and optimise the use of crop protection products.
In practical terms, a farmer within the network can make available their data and in return have access to other farmers' ag-weather data. They can also easily select the data station they want and retrieve all relevant weather data on an ultra-localised basis.
About Sencrop
Founded in 2016 within EuraTechnologies, third largest European incubator (based in Lille, France), Sencrop is one of AgTech's data-specialist start-ups, designing and marketing connected objects and real-time agricultural data collection, retrieval and management software. The brainchild of Michael Bruniaux and Martin Ducroquet, Sencrop was selected by the Village by CA accelerator for young, innovative businesses, a Credit Agricole initiative. In 2017 it won a SIMA Innovation Award, highly prized within the agricultural world, and a silver SIVAL medal in 2019. Sencrop is also a member of the Hardware Club.
Press contact :
Adrian Bell - adrian.bell@agromavens.com +44 (0) 7976 866808
www.sencrop.com