04 Jun 2020
Sentry Seed Potatoes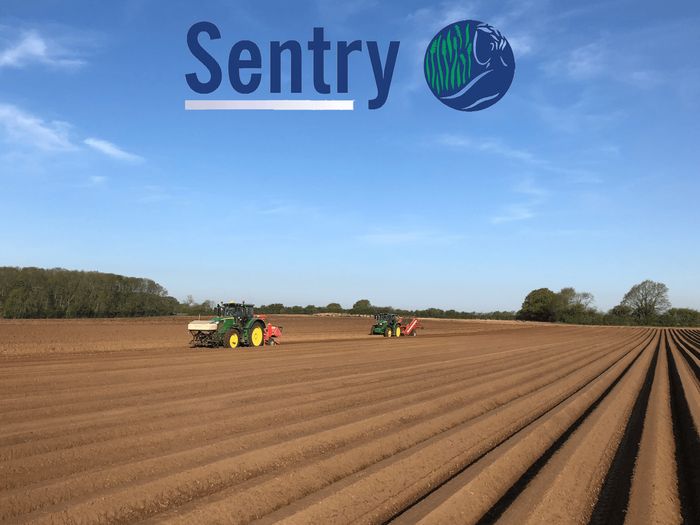 After an extremely successful first season, Sentry Limited are excited to expand their Seed Potato venture.
Diversification is a key factor when aiming to add long-term value to any business, and this is especially prevalent within the British Farming Landscape. Diversification can take a variety of forms with unlimited potential, and Sentry Limited embraced this ideology back in 2019 when they launched their Seed Potato Enterprise.
With large areas of virgin, unirrigated land, along with a collective team of conscientious, localised farmers, Sentry identified an opportunity to produce high quality seed potatoes. Collaborating with Robert Lindley Limited, this venture was launched at our Leicestershire site growing Orchestra, and our Norfolk site growing Melody.
After a first season of extraordinary success, Sentry are eager to grow and expand this enterprise further. We are now proudly growing over nine different potato varieties across four regional Sentry sites – Leicestershire, Norfolk, Essex, and Suffolk.
LEICESTERSHIRE: Taurus, Sagitta, Melody & Manhattan.
NORFOLK: Mozart, Sagitta, Orchestra, Melody, Lanorma & Georgina.
SUFFOLK & ESSEX: Sagitta, Melody & Lady Claire.
With over 197 acres of potato seed currently under cultivation across 3 businesses, Sentry are excited to continue growing this venture throughout 2020 and the years to come.
If you are interested in learning more about our seed potato enterprise please contact John Barrett to discuss further: johnpb@sentry.co.uk | 07970 549036.