Skandia H-Line next-generation elevator from BDC Systems Ltd raises the bar for efficient grain handling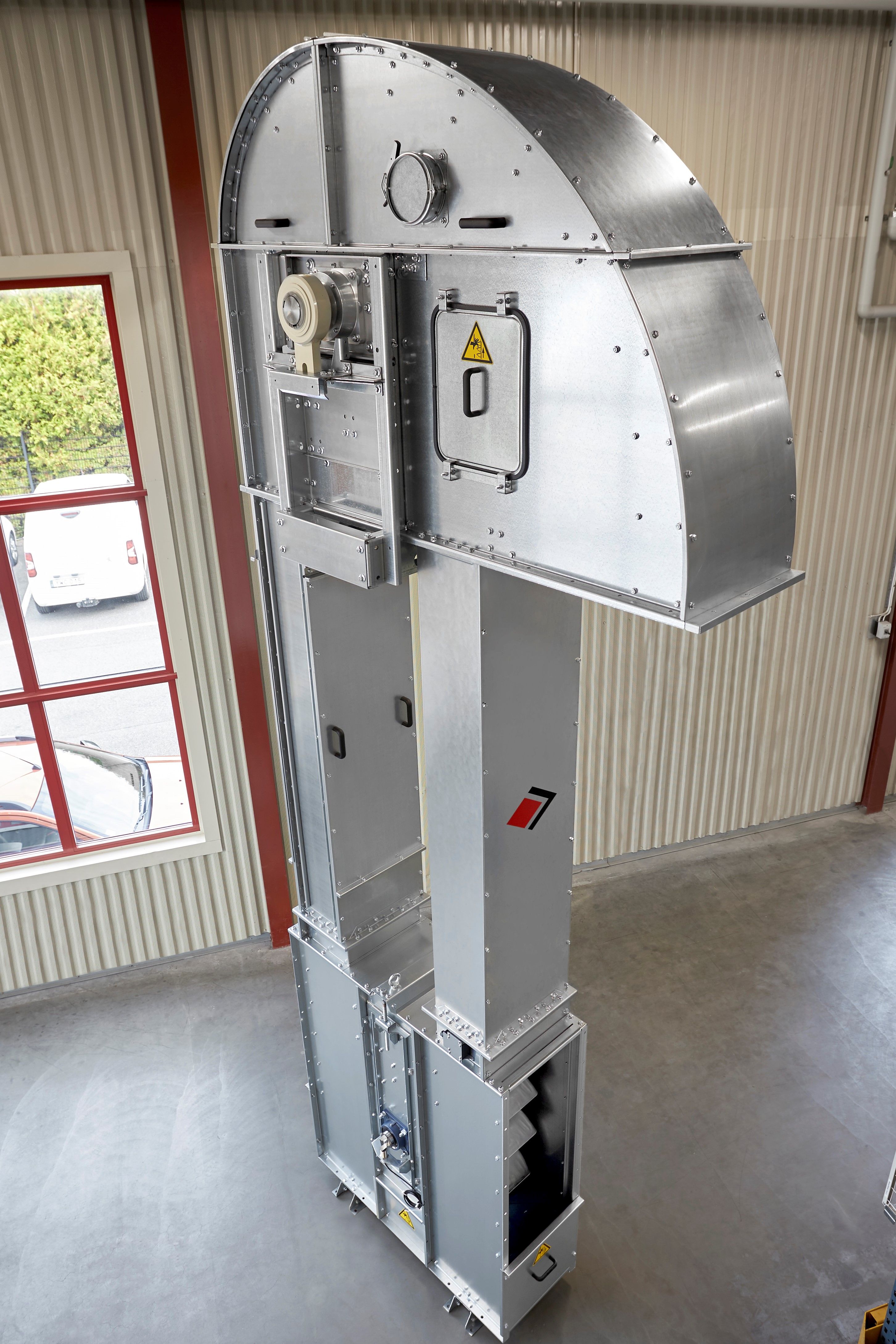 Marlborough, Wiltshire, UK: Wed 9 December, 2020: BDC Systems Ltd, Skandia Elevator's sole UK agent today announces that Skandia's H-Line, next-generation grain handling elevators are now available for delivery in the UK and Ireland.
"Skandia Elevator has worked closely with its customers to understand exactly what they need from an elevator to improve the efficiency of grain handling within both commercial grain storage operations and larger farming enterprises," said Andrew Head, Managing Director of Wiltshire-based BDC Systems Ltd.
By listening to its customers Skandia H-Line next-generation of elevators meet their requirements by delivering optimised flow, less wear, simpler and easier maintenance plus the ability to increase the overall height up to 70 metres.
Skandia has focused on simplifying service and maintenance of the H-Line. Its elevator hood is now a two-piece unit, the inspection hatches in the legs are larger and the boot has two extra cleaning hatches, as does the drive head. These smart solutions provide convenient access, simplifying the working day and significantly reducing downtime.
In addition, to meet customers' requirements to improve maintenance the H-Line's head pulley, bearings, top shaft and drive can now all be removed as a complete assembly.
The H-Line's new elevator hood and head design has been developed using extensive simulations and calculations. The result is that the hood follows the trajectory of the grain minimising wear and importantly, damage to the grain. All internal contact surfaces are fitted with plastic wearing plates.
The increased dimension of the H-Line's new and stronger legs mean that the elevator can withstand higher loads and by optimising the power requirements, the H-Line can be built up from 50 metres to now reach 70 metres. The H-Line's Very Low Elongation (VLE) belt means that although the elevator is higher the belt stretches considerably less so has a longer service life, reducing the need for re-tensioning – saving both time and money.
Skandia's revision of the individual components of the H-Line elevator has meant that assembly and adjustments have become simpler. A fast and secure installation means that operation can start very quickly.
"We started designing the H-Line using our many years of experience with our existing elevators. We listened to our customers' wishes and demands and I would say that it is a whole new elevator!" said Andreas Fransson, Skandia's Product Designer. "I know that our next-generation H-Line elevator is a reliable and durable product that will last for many, many years."
"The design of the H-Line emphasises Skandia's commitment to continuously listen, improve and develop its equipment for an ever-changing market," added Andrew Head. "This new generation of elevators will fit into the higher tonnage user category required by large farms, commercial grain stores or mill intakes. A lot of thought has gone into access and maintenance which is a key need for these types of plants."
About BDC Systems Ltd
BDC Systems, renowned for its superior customer support and comprehensive technical service ability, offers an extensive range of grain drying, cleaning, storage, handling, ventilation, milling and mixing equipment, together with other specialised solutions. In the UK, the company represents a number of world leading manufacturers and suppliers (incl: Skandia Elevator, Svegma, Zanin, and BM Silos) providing outstanding technology, quality, durability and value for money.
For more info visit: https://bdcsystems.com/ or call: +44 (0) 1672 810851
Media contact:
Sarah Chidgey, ChidgeyPR, tel: +44 (0) 7795 288302 | email: sarah@chidgeypr.co.uk