05 Jun 2020
Spread-a-Bale introduces three additions to the M range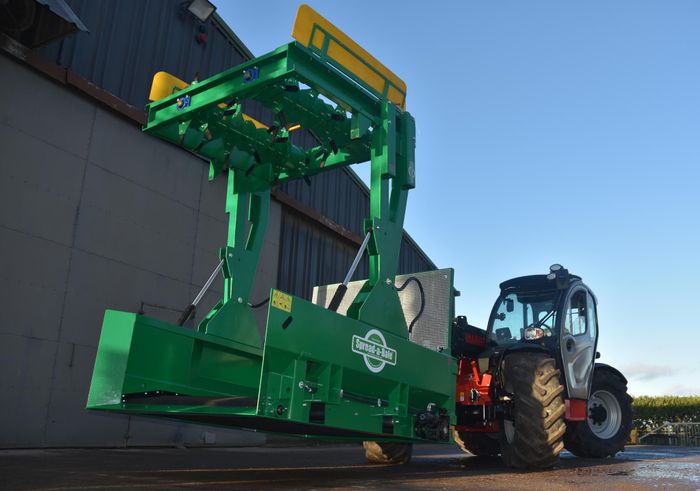 The HD, XL and Mini RB1.8
The HD is a heavy duty option designed to facilitate the spreading of high density, compact rectangular bales, features an increase in hydraulic power and up to 100% increase in torque by different configurations varying on the application. Spread-a-Bale is making this offer available on each of its entire M series.
The XL option designed to accommodate extra long bales and offers an extra 30cm long body on both Midi and Maxi Spread-a-Bale machines.
A combination of HD and XL options are available on both Spread-a-Bale Midi and Maxi models.
The Mini RB1.8 is a new compact self-loading straw spreading and feeding machine for six feet diameter big round bales, with the option to combine turbo manifold for extra power as well as HD. It is available both front and side mounted and requires two tonne lift capacity. Spreading distance is up to seven metres by a twin vertical rotor.The standard machine is hydraulically powered and requires 55 litres per minute oil flow, and the turbo option a maximum 70 litres per minute. For farmers feeding haylage, the Mini RB1.8 provides the option to attach the Feed-a-Bale deflector to facilitate forage into troughs and mixer wagon and along fences.
Spread-a-Bale's Michael Hughes comments: "The two new HD and XL options enhance the M portfolio and provide real straw spreading solutions to issues emerging from the latest trend towards high density baling machines. The heavy duty HD will enable farmers to efficiently spread the ubiquitous high density, hard bales which they are finding that spreaders, choppers and bale processors are struggling to manage, whilst the XL will conveniently help them to handle longer rectangular bales.
"The Mini RB1.8 will enable farmers to spread big round bales which have been harvested in wet weather and require more spreading power thanks to the new systems which has been developed with the option for higher displacement hydraulic motors and higher torque capacity."
He adds: "Similar to other Spread-a-Bale systems, the Mini RB1.8 will enable farmers to make reductions in spreading time and labour, and equally important, make between 30% to 50% straw savings."
Introduced to Spread-a-Bale's current retail price: HD option from £500; XL option £750; Mini RB1.8 standard list price from £12,225.
All three systems are available from Spread-a-Bale's dealer network; see www.straw-spreading-machines.com
Further information from Spread-a-Bale's Michael Hughes on 07917 303535.