21 May 2020
Spring Break Crop Options from Soya UK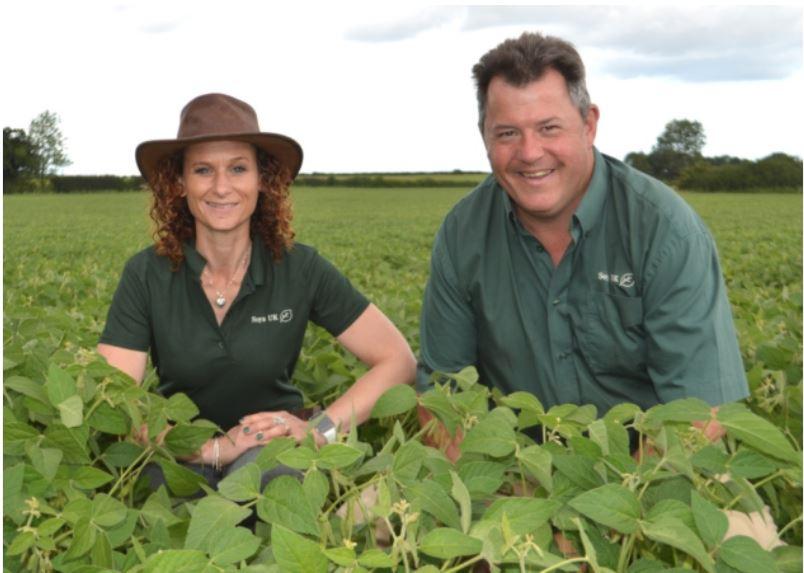 Spring Break Crop Options Available from Soya UK Ltd
Spring Break Crop Options Available from Soya UK Ltd
The need for new break crops is driving business forward at Soya UK Ltd, as growers look for viable alternatives to oilseed rape.
Set up in 2000, Soya UK Ltd have spent over 20 years developing a unique knowledge in Lupins, Soya and Millet - three of the interesting new break crops which have gained in significance over the last 5 years since the neonicotinoid ban affected oilseed rape, and the blackgrass problem appeared.
Soya
It goes without saying that Soya UK's main crop is Soya beans. With the 2020 acreage set to be in the region of 6000 acres, Soya UK has contract growers scattered across the South East, East Anglia, the Midlands, Lincolnshire and the South West.
From 2003 till 2014 we had a period when Soya was simply not viable in the UK, but with new, much improved varieties, a radically improved agronomy package, and (most significantly), a much higher price per tonne, the crop is now considered a viable proposition.
The UK crop is, by definition, non-GM, and UK buyers are now prepared to switch from Canadian or Franch I.P. (Identity Preserved) soya beans, to the UK bean. The result, is that as of 2020, Soya UK has more premium market available than current production can cater for. "We need at least 25,000 acres just to cater for the market we now have, and we are looking for more growers" says Soya UK's trading director Jacqui McNaughton. "There is a cracking opportunity for large numbers of growers to get on board with the soya" says Jacqui. "Soya is a tremendous break crop with the blackgrass well under control and the best wheats on the farm coming after soya, so it is the perfect replacement for oilseed rape in the rotation". Soya UK are inviting all arable growers as far north as Humberside to look at the gross margins and consider the advantages of growing the crop. Growers can email enquiries@soya-uk.com or visit www.soya-uk.com for further details.
Millet
Soya UK's millet acreage is now in the region of 3000 acres per year with growers scattered across the South East, East Anglia, the Midlands and the South West. Key to this has been genetics with their well-known variety "Mammoth" now enjoying a reputation for productivity and earliness. Soya UK first started growing Mammoth back in 2003 and were the first people to ever try growing commercial-scale Millet in the UK. There was no blueprint, no agronomy knowledge and no market acceptance of the UK crop, however, the dramatic earliness of Mammoth compared to traditional varieties of French or American varieties really made the difference. Soya UK's very first crop of Mammoth yielded 4.6 tonnes per Ha, and from there, they haven't looked back – although developing the agronomy and developing the market has been an ongoing long-term job. For harvest 2020, they have between 50 and 60 contract growers and this tonnage accounts for about 40% of all the millet used in the UK. Again, there is a clear aim to keep going and keep expanding the opportunity. "The crop is very easy to grow and farmers can get a decent gross margin with millet. It is particularly suitable for off-lying, unloved, difficult to manage land, since it will grow anywhere, with minimal management and is pretty bullet-proof with no pests, diseases or issues with rabbits, deer, pigeons or anything else. It is really the simplest and easiest crop to grow" says Jacqui McNaughton.
Lupins
Soya UK's lupin acreage has been stuck at about 1500 acres a year for many years – almost all of it in the North or the West of the country. Almost no lupins have been grown in the main arable regions, but this is not because it doesn't grow there, (Lupins do very well in the South East, East Anglia & the East Midlands). The problem has been market. "Lupins are a brilliant crop – they produce high yields of a very high quality protein, and we have a lot of expertise after growing many thousands of acres over the last 20 years" says Jacqui. However, without a market, you can't start. Soya UK believe they have cracked the varieties, the agronomy and the whole harvesting & handling of the crop, however until now, the only people who have been growing them have been the livestock farmers in the north and west who can harvest them and use them themselves. Going forward, things may change however, with new markets potentially emerging for lupins, and the white lupin "Dieta" is the front-runner to take a lot of acreage in arable regions if a buy-back contract is possible. "I'd advise growers to watch this space, as lupin contracts will be snapped up once people realise what a tremendous crop they are, and once the market is in place, the potential will be huge" said Jacqui.
https://youtu.be/oaH1f_B7EEU