StrictHeightPlus technology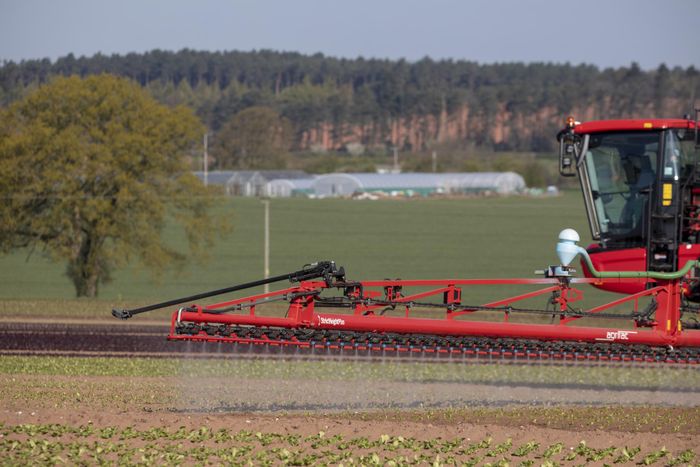 Agrifac's new StrictHeightPlus height control system guarantees perfect spraying quality as the distance to the crop will always be optimal. Have you ever asked yourself why a tightrope walker only needs a single rod to maintain equilibrium? By using the laws of nature, namely gravity. The same applies to the Agrifac J-boom. The boom is naturally balanced, meaning that no overbearing balance system has to be developed: Brilliant Simple. The Agrifac J-boom rolls freely over a moon-shaped suspension which ensures that the boom is balanced at all times: The BalancePlus.
To further improve the balance under all conditions, Agrifac introduces the StrictHeightPlus height control system. With this system, BalancePlus and variable geometry work in harmony to keep the boom freehanging in all situations. Therefore, the boom can move freely, and the movements of the machine are not passed onto the boom, resulting in the calmest and most stable boom ride possible, thereby ensuring boom balance and improving your spray quality. Due to the full integration in the EcoTronicPlus user interface, it is very easy to use.
The new fully integrated boom control system guarantees the chosen distance to the crop. By using four wide view sensors on the boom, Agrifac machines receive a reliable and accurate measurement of the crop. The benefit of using wide view sensors is simple: a wide view gives a better overview of the crop. This means that the system can 'read' the situation better and it will not be affected by irregularities in the crop. This leads to no crop damages and optimal spraying quality as the boom stays at the correct pre-set height.
The full integration with our BalancePlus system enables us to keep the boom completely balanced, which means that machine movements will not impact the boom. Together with the variable geometry and the accurate reading from the sensors, it makes StrictHeightPlus the most accurate and advanced height control system, resulting in a more accurate spraying height, better spray quality and longer machine lifetime.