06 May 2020
Top Cut Collect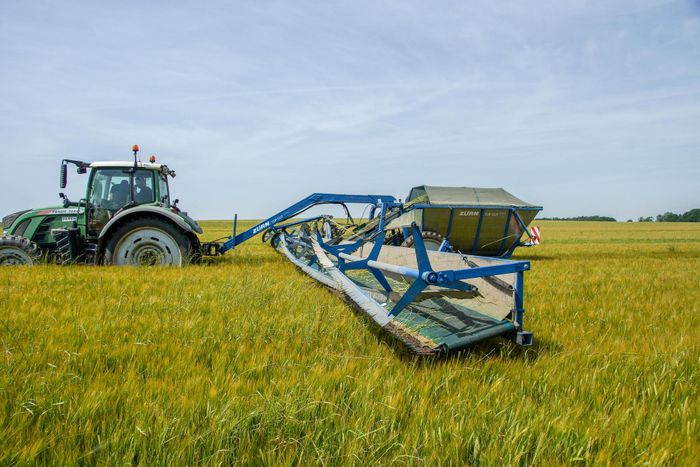 Collecting Weed Seeds
Mechanical weed control rethought
Especially intensive farming can lead to weeds developing resistances against herbicides. Common methods are no longer effective and many chemicals lost their acceptance in society.
With this background, Zürn Harvesting and French farmer and technician Romain Bouillé developed an entirely new approach for mechanical weed control.
The weed collector Top Cut Collect is an intelligent combination of two tasks: Cutting the weed tops above the crops and collecting this material which contains the weed seeds. Hygiene in the field is improved sustainably by reducing the weed seed bank in the soil.
"Different scientific studies show that up to 40 % of the weed seeds are shedding before harvest. It's therefore very effective to cut off and collect the top of these weeds before harvest. By doing this, the cycle of weeds getting into the seed bank is interrupted" says Zürn Harvesting managing director Rolf Zürn about the perennial field trials in France.
When cutting the grass weeds in their generative growth, the remaining plants are drying and not getting any new shoots. This is benefi­cial for harvest with a combine in heavy weed patches. This new approach is also a great opportunity for organic farms to extend their mechanical weeding toolbox.
This new implement is tractor-drawn with an own axle. The technological concept consists of two booms with a double-cut system and a cross conveyor belt behind. A helix-shaped reel gently pushes the weeds from the knife section to the conveyor belt to avoid any losses at this critical point. To get the dangerous load safely into the bin, another conveyor belt collects the material centrally.
Currently, the Top Cut Collect is available with up to 18 m working width. For road transport, both booms are hydraulically folded in. They're sitting close to the hopper to stay below 3 m transport width.
Collecting the weed seeds
The Top Cut Collect is especially strong when fighting resistant grass weeds like black grass, apera, wild oat or ryegrass. Furthermore, it can be a game changer in root crops which take some time to close the "canopy".