07 May 2020
TRACEGROW RECEIVES THE CIRCWASTE AWARD FOR THE PROMATION OF THE CIRCULAR ECONOMY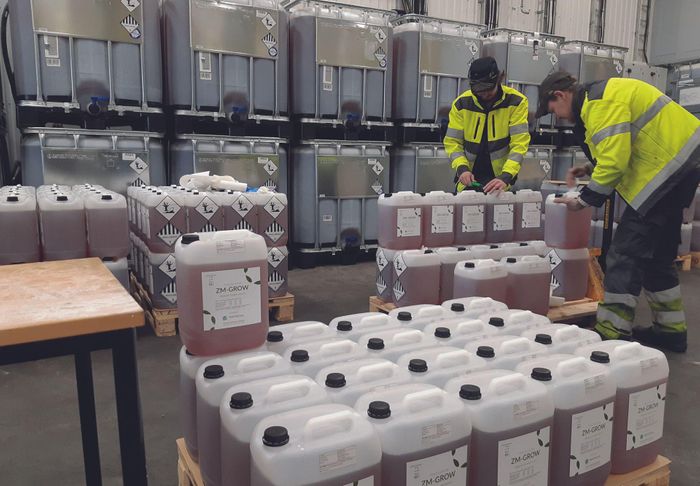 From a business idea to an international player
In the process developed and patented by Tracegrow, the battery mass is dissolved and harmful substances such as nickel and cadmium are removed from the solution. The refined end product is a micronutrient solution containing zinc and manganese that is in accordance with EU fertilizer legislation and marketed under the brand name ZM-GrowTM. The process does not generate any harmful emissions or wastewater. Tracegrow sells its micronutrient products to fertilizer retailers and fertilizer manufacturers, and the product is also suitable for organic farming.
The company's first factory was completed in 2018 in Kärsämäki and commercial production began during the same year. Once the plant has reached full capacity, it will be able to process all the alkaline battery waste collected from Finland, and at a later stage the intention is to open new plants abroad. "Our product is of widespread international interest. The product is already being sold in 10 different countries and trial sales are being launched with five new countries, of which Australia is the latest. It can actually be said that negotiations are already under way on all continents, "says Joensuu.
Tracegrow Oy has received the annual CIRCWASTE award. Tracegrow is a company operating from Kärsämäki that manufactures liquid micronutrient fertiliser from used and crushed alkaline batteries. The CIRCWASTE award annually highlights bodies or projects progressively advancing circular economy and is awarded by the Circwaste project coordinated by the Finnish Environment Institute.
Minister of the Environment and Climate Change Krista Mikkonen presented a virtual diploma to Tracegrown's CEO Mikko Joensuu at the Municipalities as Implementers of Sustainable Development- webinar on Thursday 7th of May, 2020. The webinar presented concrete actions to promote circular economy, climate change mitigation, natural values ​​and social sustainability.
"Tracegrow recovers metals from batteries that have previously been wasted in the battery disposal process and turns them into fertilizer. This is a great example of Urban Mining- thinking, where metals from already used and discarded items are recovered and re-used, therefore reducing the need for new mining operations. Hopefully, this kind of new business of the future will show the way for many others! " says minister Mikkonen in her statement.
"I am delighted by this recognition. There are about 10 billion alkaline batteries used in the world every year and usually the batteries either end up in storage or in many occasions in landfills. Tracegrow's business idea was born from the identified need to reuse the metals contained in waste batteries. Tracegrow's patented technology enables processing waste batteries safely further, resulting in recycled products with high added value. The new circular economy fertilizers are of international interest to the agricultural sector. " says Mikko Joensuu, CEO of Tracegrow.
Tracegrow's business idea combines innovative thinking and the idea has turned into a business on an industrial scale. "The use of recycled fertilizer reduces the need to mine and process virgin materials. There will be as many batteries in the future as there are resources to process them. So the opportunities for disseminating this good idea are really great, "says Tuuli Myllymaa, the head of the Circwaste project from the Finnish Environment Institute.