Traffic & Tillage Project team complete operations to establish 10th experimental crop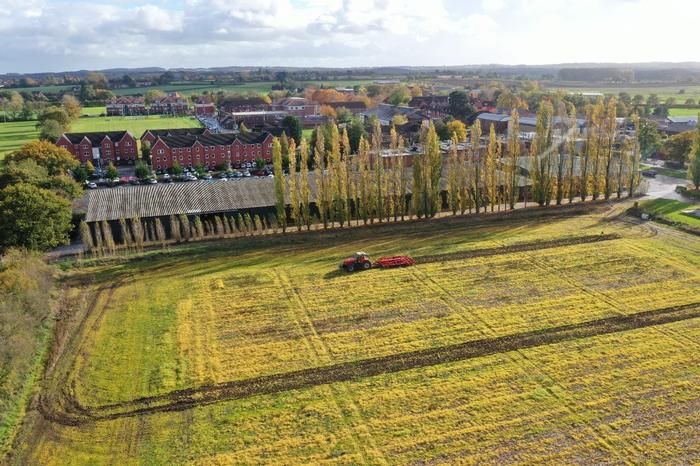 The Controlled Traffic Farming Team at Harper Adams University successfully tilled and drilled their long-term experimental site in late October 2020.
The Traffic & Tillage Project is a long-term plot experiment (36 plots of 80m x 4m) established in 2011. It investigates soil properties and crop performance as a result of three traffic systems (Controlled Traffic Farming, Standard Tyre Pressure, Low Tyre Pressure) subject to three tillage depths (250mm, 100mm and no-till).
The same pattern of very precisely applied vehicular traffic has been applied every year since the beginning of the project – thanks to RTK (real-time kinematic) positioning - followed by tillage and drilling operations.
The Traffic & Tillage Project covers an area of nearly 3 hectares (7.5 acres) and is run by Harper Adams University, with financial support from The Douglas Bomford Trust and The Morley Agricultural Foundation, plus in-kind support from Vaderstad, Michelin and AGCO Corp.
Despite the wet autumn, the project team was ready in the "starting block" to catch the very first opportunity to enter the field with PhD student Magdalena Kaczorowska-Dolowy in charge.
Tillage and drilling operations were delivered by an external subcontractor from Vaderstad, which has supported the project since the beginning, so the first challenge was to align the right weather with the subcontractor's availability, and to hold their nerve and keep the plan on track, according to Magdalena!
The next crop is the same variety of winter barley (Belfry) as used on a similar project run in Cambridgeshire, giving a unique opportunity to compare how different soil texture and potentially weather conditions, contrasted with traffic and tillage systems, affect the crop performance and soil properties.
Dr Paula Misiewicz, Senior Lecturer in Soil and Water Management, said: "This is an internationally unique long-term replicated experiment looking at the effect of traffic and tillage on soils, crops and farming economics. Over the last nine years we have observed how these soils have improved as a result of reduced trafficking and tillage."
With Magdalena due to complete her work on the project in early 2021, the team will soon be advertising the next PhD project opportunity - concentrating on the effect of traffic and tillage on soil carbon. It will continue to be funded by the current sponsors, namely The Douglas Bomford Trust and Morley Agricultural Foundation.