Unique fertiliser is battery-powered and celebrates its first birthday in UK & Ireland with a Trade Stand at CerealsLive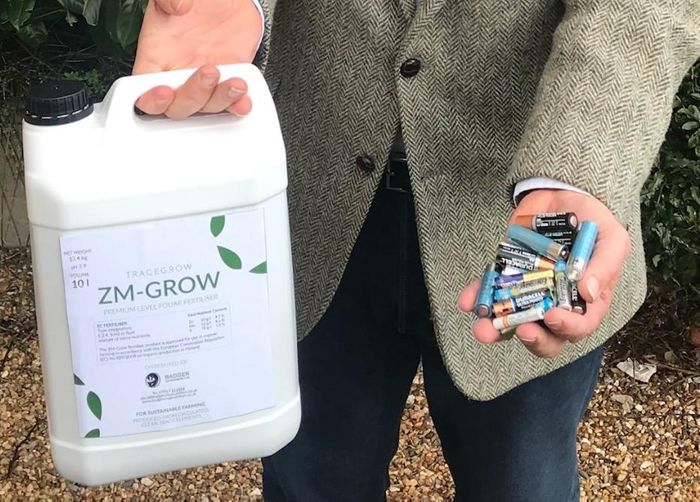 ZM-Grow, a new award-winning multi-nutrient fertiliser was launched in the UK and Ireland during April 2019, providing 100% Sulphate based Zinc and Manganese, in a clean sustainable liquid form. Uniquely, the Zinc and Manganese content is extracted from used alkaline batteries through a Patented process developed by Finnish manufacturers Tracegrow. It is thought to be the only Global process that can produce Zinc and Manganese from this source to the necessary purity for fertilisers and every 10 litre can contains approx. 250 AA/AAA batteries , for example in the UK alone over 660 Million alkaline batteries are used and disposed of every year!
"The result is a highly flexible liquid micronutrient fertiliser containing key micronutrients for all Crops, if required," says David Harrod, owner of UK importers Badger Crop Nutrition, "and because of its clean liquid form and foliar application it can be a handy tank-mix partner for Crop Protection products ."
While Zinc deficiency is seen in 10-15% of UK field crops, often on sandy soils with both a high pH and phosphate status, manganese is the most common micronutrient deficiency. Sugar beet, Potatoes, cereals - in particular barley - and peas are all prone, especially on high pH soils. we recommend testing plant leaves before deciding on timing and concentration levels.
ZM-Grow is diluted from a concentrate, and normally applied between Feb - June. Depending on crop type and requirements, and agronomists' final recommendation, 2-3 litres of ZM-Grow are recommended per hectare.
Trials using 3 litres/ha in Västarkvarn, Finland in 2017 produced a 350kg/ha increase in wheat yield and 900kg/ha in barley from a single application.
Farmer Trials carried out on Spring Barley in East Scotland during 2019 showed significant yield increases and Trials on Winter Wheat & Maize in 2019 also showed positive results.
All trial results are available on our website www.badgercropnutrition.co.uk
Because of its Circular Economy recycling process, it is certified as an Organic fertiliser under EC Regulation 889/2018 and both OF&G's and Soil association have approved it for use in Organic systems.
Tracegrow recently where awarded the annual Circwaste award by the Finnish Minister of the Environment & Climate, having been judged on significance for the Circular Economy, climate change mitigation, natural values and social sutainability.
A key strategy for Badger Consultants going forward is collaborating with UK Supermarkets to join up Recycling of alkaline batteries in the Supermarkets , making sustainable crop nutrients to help grow British food – from field to fork
Badger Crop Nutrition is ZM-Grow's sole UK and Ireland Importer, and is available to British Farmers Nationwide from Partners Distributors – Harlow Agricultural Merchants , Hutchinsons and Tarff Valley Farmers in Scotland.
For more information, see www.badgercropnutrition.co.uk or at twitter @badgercrop.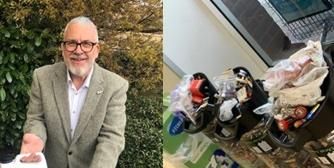 Badger Crop Nutrition's David Harrod is a seasoned veteran of the fertiliser industry. Former Joint Managing Director of J&H Bunn when the company sold in 2011, he stayed with new owners Koch Industries until 2017 when the business was sold again. David is also Commercial Director for Payne Crop Nutrition.