29 Nov 2022
Crop plots growing strongly at new Cereals site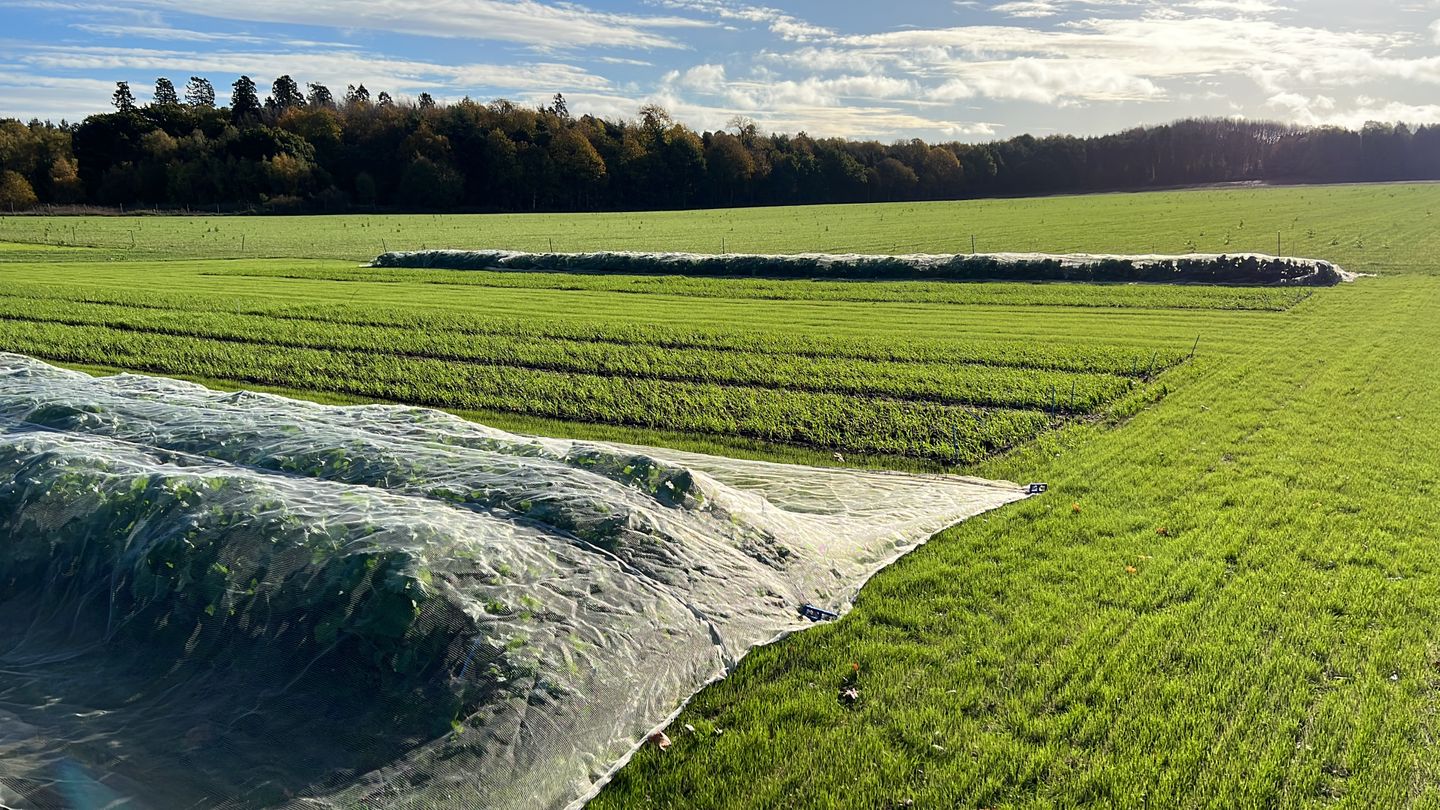 Press Release
29 November 2022
Crop plots growing strongly at new Cereals site
Exhibitors gathered at the new Cereals Event site last week to examine their crop plots and discuss plans for the event. Despite torrential rain, the new location, at Thoresby Hall, Newark, looked a picture, with the 60ha site protected by trees on the edge of Sherwood Forest.
"Everything about the new site is positive," said arable project manager Jonathan Backhouse. "It's easily accessible, very picturesque and has great facilities. The easy-working sandland makes for straightforward crop establishment and a free-draining show site," he explained. "However, the flip-side of this means we could find ourselves watering regularly if we see drought-like conditions again next spring – fortunately Thoresby has excellent infrastructure in place for irrigation."
The crop plot area is larger than last year, with both returning and new exhibitors, and Mr Backhouse has netted and fenced off the more vulnerable crops to protect them from pest damage including the estate's red deer. "We haven't had any disease challenges so far, and cabbage stem flea beetle pressure was relatively low, so everything's growing away well."
Will Davies, farm management consultant and agronomist at Ceres Rural, is overseeing many of the crop plots, and is pleased with how well they have grown away this autumn. "As an agronomist, Cereals is a good opportunity to see all of the varieties in one place and grown under the same conditions. You can't always get out to breeders' crop plots," he said. "By seeing the varieties you get an idea of what they look like under real conditions, not just reading statistics from the Recommended List."
The Syngenta Sprays and Sprayers arena will be particularly interesting at the new site, he added. "It's not a flat field, so you'll be able to really see how well the booms follow the contours, which will be useful."
So, what can visitors expect from the crop plots at next year's event?
KWS
KWS will again be growing its crops in a wheel layout, with winter wheat and barley, spring wheat and barley, sugar beet, oilseed rape, rye and spring oats. "We've got four new winter wheats and two new hybrid oilseed rape varieties," said Olivia Potter, technical specialist at KWS. There's also a new hybrid winter barley, which is currently the highest yielding in NL2 trials. "It's very exciting, with very good disease resistance and standing ability."
Spring milling wheats KWS Ladum and Alicium will also be in the ground. "There are no new high quality winter milling varieties, so it's good to have some new high yielding spring varieties coming through." Having all the new varieties in the ground in one place, along with the breeders who produced them, is of particular benefit, she added. "You can go from plot to plot, compare varieties, touch them and get a real feel for how they will fit with your farm. It's a good chance to talk to the breeders who have worked with each variety for 10 years or more and know them inside out – and for us, knowing what farmers want is important, too."
DSV
A mix of old favourites and new varieties will feature on the DSV stand, including Champion winter wheat and its descendant Oxford, which has a more consistent yield, stiffer straw and good resistance to both yellow rust and orange wheat blossom midge. "It's a farmer-friendly variety," said arable technical manager, Andy Hartley. Loxton milling wheat, which Warburtons is using, will also be grown.
Farmers can view a range of Clearfield oilseed rape varieties, including Beatrix, a new unnamed high-yielding variety, and the hybrid Dolphin. "We've a couple of clubroot resistant varieties, which is becoming more of an issue as growers are drilling earlier," said Mr Hartley. "And we'll be launching a new phoma blocking gene; Rlm7 is breaking down a bit so this is an improvement, and some varieties are now in NL2 testing."
Natural England
Conservation mixes, regenerative farming and soil health will be the focus on Natural England's stand, with enhanced autumn and winter bird seed mixes, pollinator mixes, and cover crops. These will include a clover living mulch for undersowing cereals, maize and oilseed rape, explained Mark Taylor, senior Catchment Sensitive Farming officer. "Farming is changing, we're trying to find new ways of doing things, and as we move away from the Basic Payment Scheme a lot of people will be looking at ways to reduce inputs or generate extra money through environmental stewardship."
Farmers will be able to view deep rooting radishes and other mixes to improve soil health and discover how cover and companion cropping can protect soils from compaction, erosion and other damage. "Input prices have soared, so there are benefits in reducing fertiliser use and loss, protecting soil and water quality, and delivering for wildlife," said Mr Taylor.
"A lot of these options are available through stewardship and future environmental schemes. Farmers are moving away from cultivation; if you can do the work with living roots and green cover, it's something to consider." Visitors to the stand will also be able to collect BASIS points.
LSPB
Oilseed rape growers will be keen to see LSPB's Vegas, Murray and Flemming, which are new to the Recommended List, as well as some unnamed varieties still in the national listing process. "The new varieties benefit from RlmS phoma resistance and farmers can see the stay-green effect that has," said pulse product manager Michael Shuldham.
Peas and beans will also be planted, including Carrington, which brings a new yield level to the pea market, and Yukon, a spring bean with very early maturity for growers further north. "It's a really exciting variety, with very good downy mildew resistance and a good seed size and quality for human consumption," said Mr Shuldham. "We've also got high protein beans like Victus with low vicine and convicine content for monogastric feeds. They will really help with feed digestibility and replacing soya."
PGRO
Cultural pest management will be PGRO's focus this year, demonstrating the trials work it has been carrying out for the past two years. It will feature vetch, lucerne and winter bean trap crops, sown alongside spring beans to attract damaging beetles. It will also have pheromone traps. "We've had really positive results, especially with early sown bean trap crops as they draw the pests in and keep them there," said research and development manager, Becky Howard. "We're also looking at the impact the crops have on aphids and beneficial insects."
Her work has also looked at pest levels where insecticides have not been used for 10 years; here, the pests are reduced as the beneficial insects are more in balance. "Many growers are trying to reduce insecticide use, so there's a lot of interest in different techniques. There's also a high degree of interest in pulses for their ecological benefits and for alternative markets like human consumption and fish food," she added. "Environmental stewardship options can sit alongside this quite well."
Optiyield
In a first for the Cereals Event, one set of plots is being taken right through to harvest as a working replicated trial, rather than being killed off after the event. Optiyield has a 40x15m site split into two 15x15m squares with four replicated treatments, including a control. It will be comparing applying Consortium Plus, a mix of beneficial soil microbes and biostimulants, with or without foliar nutrients and biostimulants throughout the growing season. The control will receive a standard fertiliser programme.
"Our foliar nitrogen can be applied at full rate without any scorch, giving 95% nutrient use efficiency," explained CEO Simon Fox. It also works in dry conditions, unlike prilled fertiliser, and reduces losses into groundwater or the air. "When you switch to foliar you need 30% less total nitrogen, volatilisation reduces by 50% and the overall carbon footprint of growing crops comes down significantly," he added. "So there are environmental and financial benefits. We are already seeing the controls looking a bit sickly compared to the treated plots, as the mix stimulates significant rooting and mineralisation of nutrients."
Rothamsted Research
Visitors will have a rare chance to see some of the Watkins lines of wheat – grown from samples collected in the 1920s – in the ground at the Rothamsted plot. "We are applying different rates of nitrogen fertiliser and looking for traits that might be useful to breed into modern varieties to reduce the need for inputs," explained head of communications, James Clarke. "The search for promising new traits never stops; we need to respond to challenges like climate change, extreme weather and reducing inputs. "
The organisation is also looking at herbal leys, cover crops and reduced tillage to build soil carbon, in order to give practical advice to farmers looking to implement such techniques. "We've also got some high omega 3 camelina, which we've been working on for a while. It's potentially a very profitable and useful crop for fish food."
Cereals is a perfect chance for Rothamsted's world leading scientific experts to come and learn from the farming community, added Mr Clarke. "They spend a lot of time locked up in laboratories, so it's a highlight of the year for them to come and learn what farmers' issues are: It drives our research."
Premium Crops
Growers looking for something a bit different will find a range of alternative crops at Premium Crops' site, including spring and winter linseed, high omega 3 varieties, high erucic acid rapeseed, high protein spring wheat, naked oats and spelt. "We will also have a cover crop mix selected to be a precursor to spring linseed or canary seed," said seeds and marketing manager, Nigel Padbury. "People are looking at cover crop mixtures and need to be careful what's in them if growing spring linseed or canary seed. They are small seeds so need a fine seedbed, and many cover crops have a lot of dry matter, which is difficult to incorporate."
The mixes being grown at Cereals provide good rooting and soil protection over the winter, with sufficient biomass to trap nutrients, but will break down quickly to enable sowing of spring crops into a fine tilth. "A lot of people plan to grow spring crops, and want the benefits of cover crops, so why not make the decision to plan for it in the autumn with the correct cover crop?"
Bionature UK
Foliar nutrition and micronutrients are becoming increasingly popular, and Bionature will be growing oilseed rape and winter wheat trials treated with varying rates of Delta K liquid fertiliser and Tiptop 20.20.20, against standard fertiliser treatments. "We're pushing for rooting, stem strength, tillering and biomass in wheat, and rooting, branching and pod sites in oilseed rape," said partner Steve Mowbray.
"Our products are based around NH2 not the normal NH3, as the plant uses less energy to take it up. It's very cost effective and environmentally friendly, with no leaching or volatilisation, as uptake and conversion is very fast," he added. "Being able to come to Cereals and see something in person is very important for growers and they will be able to see more tillering and pod sites in the treated plots."
AminoA
Seed treatments are another area of interest, and AminoA is growing oilseed rape, triticale and winter wheat plots treated with STAART versus untreated plots. "We did a demo last year and the oilseed rape had more pods and more seeds per pod, while the wheat and triticale had more ears/m2," said managing director Richard Phillips. "We've just looked at the site and the untreated roots just came up with the fork, while the treated crops wouldn't pull out, they are clearly much better rooted."
The firm has also been involved with research in Warsaw looking at the impact of artificial nitrogen on soil microbiology. Applied at up to 70kg/ha there was no impact, but above that level, applications were increasingly detrimental. It's running trials using no nitrogen plus GRO foliar treatment, 70kg/ha with FLO, and 150kg/ha with BLAAZT.
These products contain amino acids, biostimulants and nutrients. "BLAAZT contains amine nitrogen, which is normally only found in the plant itself – it can reduce conventional nitrogen requirements by 75%, reducing costs while maintaining yields," said Mr Phillips. "We tested the soil two weeks before Cereals last year; the treated plots were friable with reasonable microbe levels, even at 150kg/ha of nitrogen. But the conventional plots with 220kg/ha were hard to dig and had no protozoa. It's so important to maintain the soil microbiology."
Syngenta
The ever popular birds and bees pollination mix will provide the photogenic backdrop to the Syngenta Sprays and Sprayers arena. Syngenta's stand will also feature low and no-till cultivation trials on its varieties, a new BYDV tolerant hybrid barley and a new winter bread making wheat. Visitors can also see its market leading malting barleys and a winter barley with malting potential, and chat to the experts about cover crops and beneficial flower mixes.
The company will be unveiling findings from the nitrogen reduction and nitrogen use efficiency work with hybrid barleys. Farmers can also take a look at its new 3D90 nozzle, which is the next step in nozzle technology and drift reduction. As ever, the prestigious Farm Spray Operator of the Year Award will be presented at the event, for which applications are now open.
Panel – the new site
Hosting the Cereals Event for the first time in 2023, the Thoresby Estate has been in the Pierrepont family since the 1590s. It comprises 4,860ha, of which 3,400ha is farmed in-hand. The rest is a mixture of commercial forestry, natural forest – including Sherwood Forest's Major Oak – and let farms. "We have a nine-crop rotation of wheat, barley, maize, oilseed rape, beans, potatoes, carrots, onions and sugar beet," explained landowner Gregor Pierrepont. There are also 120 Longhorn cows plus followers, 250 Hebridean and Greyface Dartmoor sheep and 1100 Mule crosses.
"As the premier agricultural expo in the UK, we've been sending people to Cereals for as long as I can remember. Having it here is a chance to give it a refresh on a new site and broaden the mix of attendees for whom the previous sites were less accessible," he added. The facilities at Thoresby are also excellent, with camping, holiday cottages, a hotel, riding hall and walled garden for ancillary events. "We also host concerts, food festivals, ploughing matches and other outdoor events."
Charity fundraising
As in 2022, Cereals is donating 50% of the ticket sales to charity – and the 2023 recipient has been chosen by the hosting family. "It's very close to our hearts as it was set up by my aunt Sarah, who was afflicted by a very rare disease," said Mr Pierrepont. She set about raising awareness and trying to find a cure before she died, establishing the Multiple System Atrophy Trust. Around 3,300 people are living in the UK with it at any one time, and 85-90% are known to the Trust, which provides specialist nurses and research to support people.
Sufferers and their families are invited to plant oaks in Sarah's Wood on the estate, and are welcome back to rest and reflect. The charity will be holding a special fundraiser at Cereals, further details to be announced.
The Cereals Event will be held near Newark, Nottinghamshire, on 13-14 June 2023. For more information visit www.cerealsevent.co.uk.
Editors' notes
The Cereals Event is the leading technical event for the UK arable industry, with live demonstrations and areas dedicated to agronomy, technology, machinery, business, education, environment and renewable energy. Sister event to Fruit Focus & SIMA, over 350 leading suppliers exhibit at Cereals with the very latest products, advice and information. It provides visitors with a complete one-stop service from seeds to sprayers, crop varieties to cultivation equipment, and fertiliser to finance.
Contacts:
Olivia Cooper: 01392 840009
olivia@agri-hub.co.uk or www.agri-hub.co.uk