01 May 2019
DUNCAN & TOPLIS NAMED "BEST LARGE PRACTICE" AT REGIONAL ACCOUNTANCY AWARDS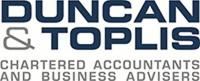 East Midlands based accountants, Duncan & Toplis continues a five-time winning streak at the ICAEW East Midlands Awards, being named "Best Large Practice" for 2019.
It's the second time in a row that Duncan & Toplis has won the title at the ICAEW East Midlands Awards, having won the award for Best Medium Practice for three years previously.
Duncan & Toplis, which is now the 30th largest accountancy company in the UK, won the Best Large Practice Award 2019 at a black-tie ceremony in Nottingham on Friday 15th March.
The ICAEW East Midlands Awards are one of the region's most prestigious awards for the accountancy profession. The ICAEW is a world leading professional membership organisation for chartered accountants with more than 180,000 members, including 6,000 members in the East Midlands.
Judges at this year's awards praised Duncan & Toplis for its commitment to client service and its work to support the community, having supported a wide range of charities and good causes across the region.
One of the judges, President of Nottingham, Derby & Lincoln Society of Chartered Accountants, Anshu Mehan said:
"Selection of best large practice award winner has always been a difficult task, with very high standards delivered by all applicants. Duncan & Toplis joining the Top 30 UK accountancy practices and winning Gold Award from Investor in Customers at the same time were notable achievements for the practice and were contributing factors in the Judges' overall decision to make them worthy winners."
The company was also singled out for the support it's given to companies in rural areas which it's helped to switch to digital accountancy solutions ahead of changes to taxation laws, for its work to support the local community and good causes, and for its work with the International Bomber Command Centre (IBCC) in Lincoln.
The company supported the IBCC through nine years of fundraising, helping it to make the most of every penny that was donated while helping it to conform to complicated charity financial regulations and VAT rules and it's now supporting the centre in its commercial stage of operations.
Adrian Reynolds, Managing Director of Duncan & Toplis said:
"I couldn't be more proud of our team at Duncan & Toplis and this award shows just how good we are. Winning the ICAEW East Midlands Best Large Practice Award rounds off an incredible year for us; we've won a British Accountancy Award, we've risen up the rankings to become the UK's 30th largest accountancy company, we've done loads to support and champion good causes in the community and helped thousands of clients to achieve their goals and succeed. I'd also like to congratulate the other winners and I'd like to thank everyone who's played a part in helping us to officially continue being the best large accountancy practice in the East Midlands."
Duncan & Toplis beat other finalists for the award including Deloitte and PwC.