01 Apr 2019
QUALITY VEHICLE SEATS FOR A COMFORTABLE DRIVING EXPERIENCE FROM TEK SEATING AT CEREALS 2019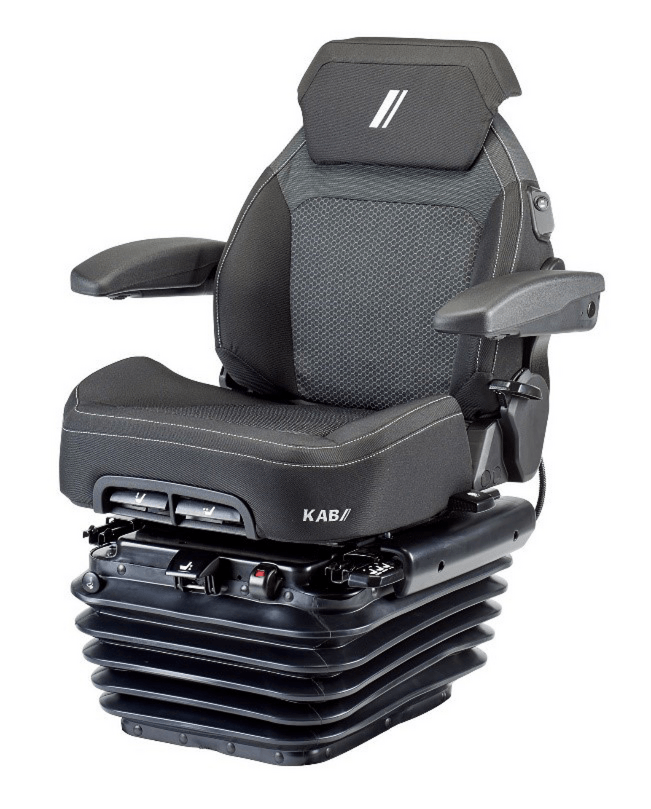 CEREALS 2019/STAND 616 April 2019
IF you're looking for quality new and replacement seats for most agricultural vehicles, head for the TEK Seating stand (616) at CEREALS 2019, taking place from 12th - 13th June at Boothby Graffoe, Lincoln, Lincs.
People working in agriculture are susceptible to lower back pain with the amount of lifting, bending and carrying endured on a daily basis. Although there's an array of equipment available to make some of the harder farming jobs easier, one simple change could be your seat.
TEK Seating, the UK's largest independent vehicle seat distributor for the OEM and aftermarket, is displaying a variety of superior seats at Cereals, from a basic pan through to a full air suspension seat, from leading industry names such as Grammer, KAB, Milsco, United Seats and Isringhausen.
TEK Seating is leading with the SCIOX Super and Super High seats from KAB Seating which offer quality variable damping technology, with a heater and mechanical lumbar available as standard. This make the Super and Super High an ideal seating choice for maintaining driver comfort and support.
Also on show are the Grammer Maximo Professional and the Grammer Evolution seats. Featuring low frequency suspension, the Maximo Professional is best suited for medium or heavy-duty tractors. This vibration-optimised air suspension seat is perfectly suited for use in vehicles with axle and cabin suspensions. Just for Cereals, TEK is offering this top-of-the-range seat at a special show price of £995 +VAT.
The Grammer Actimo Evolution is a premium comfort seat for agricultural machines such as sprayers. It is equipped with a low-frequency pneumatic suspension to compensate vibrations and jolts even more effectively, plus a fore/aft isolator to minimize vibrations in driving direction.
Also available is the KAB 81/E6 - a mechanical suspension seat with lumbar support from the 800 series range which is suitable for most agricultural applications.
United Seats offer a good range of competitively priced seats including the CS 85/H90 and the MGV25. The CS 85/H90 is a mechanical suspension seat ideal for smaller tractors featuring PVC or fabric trim, 3-step height and a foldable and adjustable backrest. Its T600 AB rear suspension seat is also ideal for smaller tractors.
Milsco's CE200 low profile mechanical suspension seat, designed for comfort and support, incorporates an ergonomic two-piece, durable, weather resistant foam-in place cushion. It's XB180, XH110, XB200 all-weather, multi-purpose, ergonomically designed static seats are competitively priced options for those on a budget.
TEK also supplies quality parts and spares, as well as an excellent and reliable trim service.
Our experienced staff are on hand to offer advice on the best seating solutions for all your agri needs, so come along to our stand (616) to find out more.
Established for nearly 50 years, and with branches in Tunbridge Wells, Kent and Rearsby, Leics, TEK has built a reputation for a dependable, competitive and personal service.
For further details log onto www.tekseating.co.uk or contact T: 01892 515028
or E: sales@tekseating.co.uk