06 Mar 2020
Spotlight on agricultural careers at Cereals 2020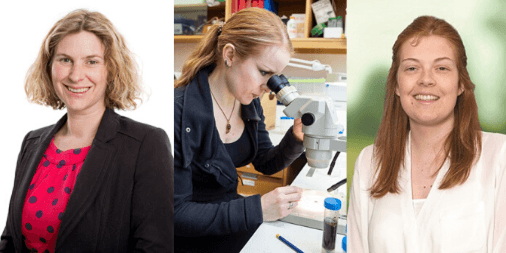 Careers in agriculture are incredibly varied, from farm workers to engineers, scientists to agronomists, meaning the industry has broad appeal to those with or without a farming background.
Cereals 2020 is celebrating this variety with a Young Farmers' session on different agricultural professions, offering an insight into the options available, alongside a live careers board.
With International Women's Day approaching, we profile some of the female speakers lined up to present in the careers seminar.

Research scientist
Having a direct impact on farming which is mutually beneficial for the farmer, food security and the environment is what drives Kelly Jowett's career passion.
A PhD researcher at Rothamsted, Miss Jowett discovered her love for farming, the environment and conservation through several jobs, ranging from gardening to forestry. Studying environmental conservation at Nottingham Trent, Miss Jowett became interested in invertebrates and how they could provide pest control in agricultural systems.
She built up close working collaborations with several farmers and went on to complete a masters looking at persuasive communications to farmers.
Getting back to field work, her PhD at Rothamsted is researching sustainable agriculture, specifically carabid beetles in farmland and beneficial environmental measures to support their favourable predatory habits. "I want the research to be useful– I want to make an impact," she says. "I love being at the cutting edge of science – there is always something new to learn."
Miss Jowett never thought she would go into science when she was young and wants others to know that it is not an inaccessible career. "You don't necessarily have to go to university and it's never too late to change your mind. Try things out and do some work experience."
She really likes the good balance of female and male scientists in her sector, however she does feel there could be further improvements made to help women balance a career and family. "It's not impossible, but it is difficult. I do think we will see this change and a lot more flexible working introduced."
Farm consultant
Passing the notoriously difficult Central Association of Agricultural Valuers exams has been a career highlight for Georgina Sweeting, food and farming consultant at Savills.
Coming from a farming background, Miss Sweeting studied agricultural business at Newcastle University. Though initially uncertain what kind of career she might pursue, that helped her understand just how many associated professions there are.
Having been with Savills for over three years, she has found working in a big organisation highly enjoyable. "Farming is a small area within Savills' overall remit, but it means there is always someone to help in another area," she says. "It also means there are loads of opportunities and great career development, as well as flexibility to move departments."
Miss Sweeting spends as much time out meeting farmers and clients as she does in the office. "I enjoy the versatility and being able to go out to farms."
For anyone interested in becoming a consultant, it's worth undertaking some work experience, she advises. "It doesn't matter where, as long as you have something your CV will stand out better."
She doesn't see a barrier for women in her career. "I see a lot of women in my day-to-day work and I think it's pretty balanced. I like to think people employ me because I am good at my job and appreciate me for what I can do."
Tax adviser
Don't be put off by the job title - tax advising isn't just about tax, explains Catherine Vickery, associate director at Old Mill financial advisers. "It can be about succession, land, development, how to split up money to farming and non-farming sides."
Hailing from a farming background, Mrs Vickery got a taste for tax at a young age which has led to her career as a rural tax adviser. "I started doing my dad's VAT returns at 14 and liked working with numbers and spreadsheets."
After taking a degree in biology at the University of Bath, she found that it was not the career path for her and instead found a job in tax advising. "In my first job I went to inheritance tax meetings and got really excited about talking to real clients and coming up with strategies that could make a huge difference to peoples' lives. It's very rewarding on the farming side as the farm is so intertwined with everything."
Getting others interested in tax can be a bit difficult but tax specialists are really in demand and it is a far more diverse, dynamic and interesting career than many think. "There's a lot of tactical negotiating, family mediation and yearly changes to tax rules," she says.
You don't even require a degree. "Get work experience or take placements," advises Mrs Vickery. "There are apprenticeship schemes available or qualifications from the Association of Taxation Technicians. You don't have to go to university to become a great accountant or tax adviser, but having a rural background does help if you want to become a rural adviser."
Mrs Vickery is really enthusiastic that there are more women coming into agricultural professions. "I do think it's about the right person for the right job, and that the best solution for any business is having a mix of men and women." She is also pleased that there is increasing acceptance for shared childcare and part-time working. "It's about having industry support and flexibility for anyone having a family and homelife."
Those attending Cereals will be able to hear all three women speak in the Young Farmers' theatre on 10 June, alongside a number of other industry professionals including an agronomist, a farm manager and an agricultural engineer.
"There are so many careers related to agriculture, but often those thinking about what profession they are interested in aren't always aware of all the options," explains Alli McEntyre, Cereals event director. "It's great to be able to give visitors a valuable insight to possible careers, as well as profiling a number of highly successful women in the industry."