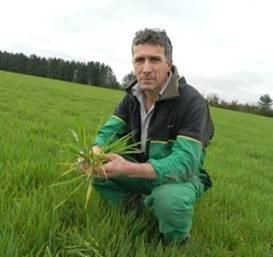 Julian Gold
Farm Manager, Hendred Estate, Oxfordshire
Expertise: All aspects of mainly arable farm management from a very practical level through to strategic business management .Particular interests are agronomy,crop nutrition, soil health and building resilient, sustainable, planet friendly farming systems.
Biography: Farmers son, Graduated from Harper Adams College with a HND in Agriculture.After a short spell on the family farm have spent the last 32 years managing farms and estates; initially with farm management companies involving short periods on different farms and latterly a longer tenure on a privately owned estate.
Am a FACTS and BASIS trained agronomist and have a commitment to continuing to improve cropping performance but in a sustainable manner.In 2012 we implemented a 10m controlled traffic system across the estate which has given us a leap forwards in soil health management.We carry out regular field trials in house and for external organisations . Are presently in year 3 of the 5 yr ASSIST trial. ( Major government funded trial to investigate integrated management systems as a way of delivering sustainable intensification ).Was one of the first tranche of AHDB monitor Farms from 2014-17.( farmer to farmer knowledge exchange programme )Am on the committee of SEESOIL ( South east England branch of the British Society of Soil Scientists ) and am keen to help improve flow of knowledge between Farmers and the Scientific community.Was awarded Soil Farmer of the Year in 2019.
Outside farming I am a keen motorcyclist and Paraglider pilot but unfortunately the good weather that they require is also good for farming so do not get to indulge often enough!