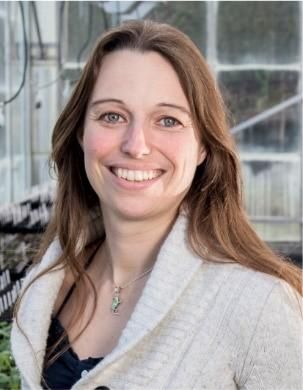 Rachel Wells
Senior Scientist, Department of Crop Genetics
,
John Innes Centre
Rachel completed a degree at the University of East Anglia in Molecular Biology and Genetics in 2000 before continuing to study for an Msc in Plant Breeding and Biotechnology. Following an Industrial CASE PhD studentship with Monsanto on oilseed rape canopy architecture, she began work at the John Innes as a Postdoctoral Researcher before becoming a Senior Scientist at JIC in 2013.
Rachel's research involves the identification of genetic resistance to Brassica pests, with a strong focus on cabbage stem flea beetle (CSFB). Trials for genetic factors influencing CSFB feeding in the field can be hampered by environmental and spatial effects and from interactions with other pests. The JIC insectary has the ability to rear CSFB in house, allowing more controlled variety screens for both adult and larval CSFB damage and survival in Brassica napus and related species such as Sinapis alba. Results from such trials can then be confirmed within the field. These experiments can be used to look at plant-pest interaction and ultimately determine genes associate with feeding habit which can be used for breeding.
Recently Rachel has led a team of researchers which have identified and characterised the adult CSFB parasitoid, Microtonus brassicae. Breeding, supporting parasitoids and agronomic practices are all being investigated by the UK research community to combat CSFB and support the growth of oilseed rape in the crop rotation.