Soil health all day long at the Claydon Direct Drill Demo Area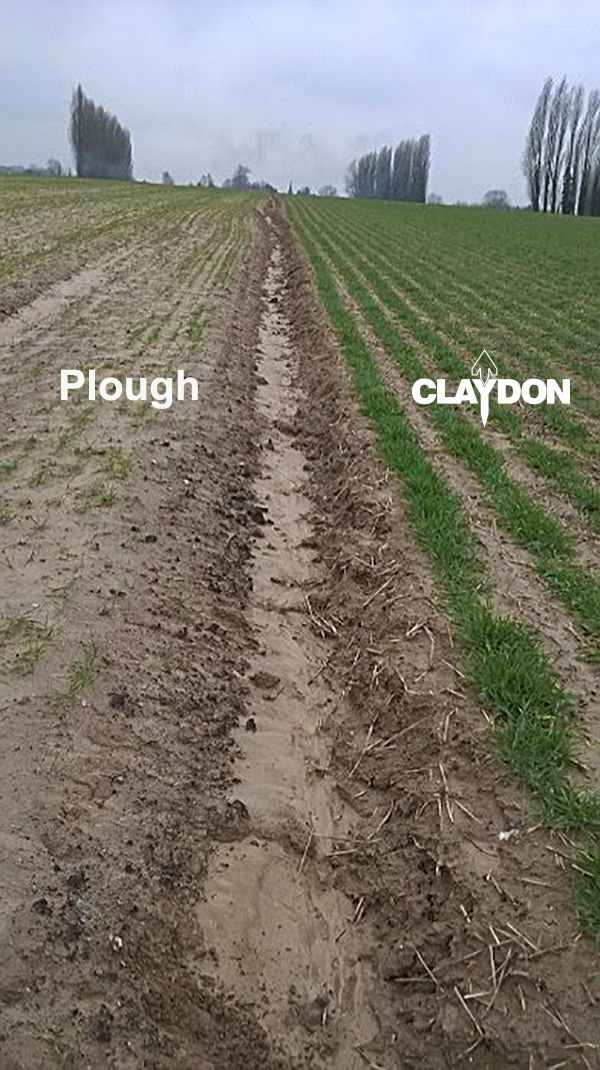 Stop by the Claydon Direct Drill area near the NAAC Land Drainage Hub to see the Opti-Till in action and to discuss your soil health.
Ploughing is expensive – both financially and environmentally. It creates the need for extra cultivation passes and increases fuel consumption. Soil is turned over, releasing moisture and CO2 to the atmosphere. Ploughing depletes organic matter, mineralises nitrogen and harms soil life. Natural soil structure is destroyed and can no longer support the weight of heavy machinery. This can result in compaction and wheelings. Ploughing increases the risk of wind and water erosion.
Instead of inverting soil, min-till involves several shallower cultivations. These also damage the soil's natural structure and biology and can lead to compaction and waterlogging. Min-till mixes weed seeds throughout the soil profile which allows them to germinate over a long period over many seasons. The weed seed bank is not diminished. Min-till can also dehydrate the soil.
The Claydon Drill's leading tine technology is at the heart of the Opti-Till® system. The leading tine loosens soil – but only where necessary – in the rooting and seeding zone. The bands in between the seeded rows are left undisturbed. The front tine loosens and aerates the soil, creating a friable tilth which is a perfect environment for seedlings to germinate and develop strong, deep roots which tap into the moisture in the undisturbed banks of soil.
The leading tine also breaks up any shallow compaction, reinstating the water and air balance in the soil, providing good drainage so water can get away from the rooting zone. This eliminates ponding through the later autumn and winter period.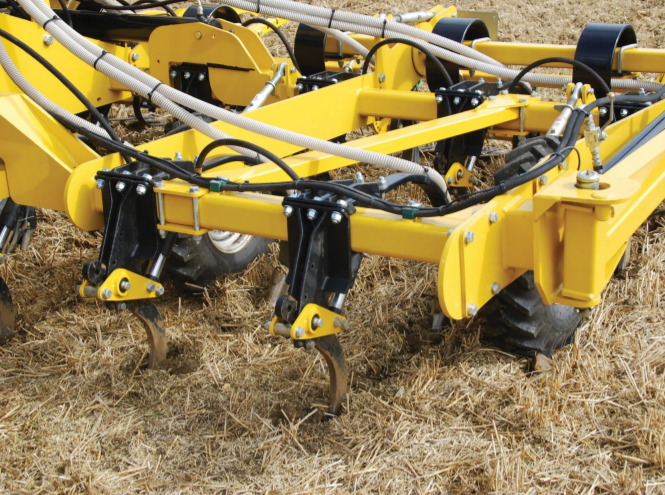 See Kuhn machines in action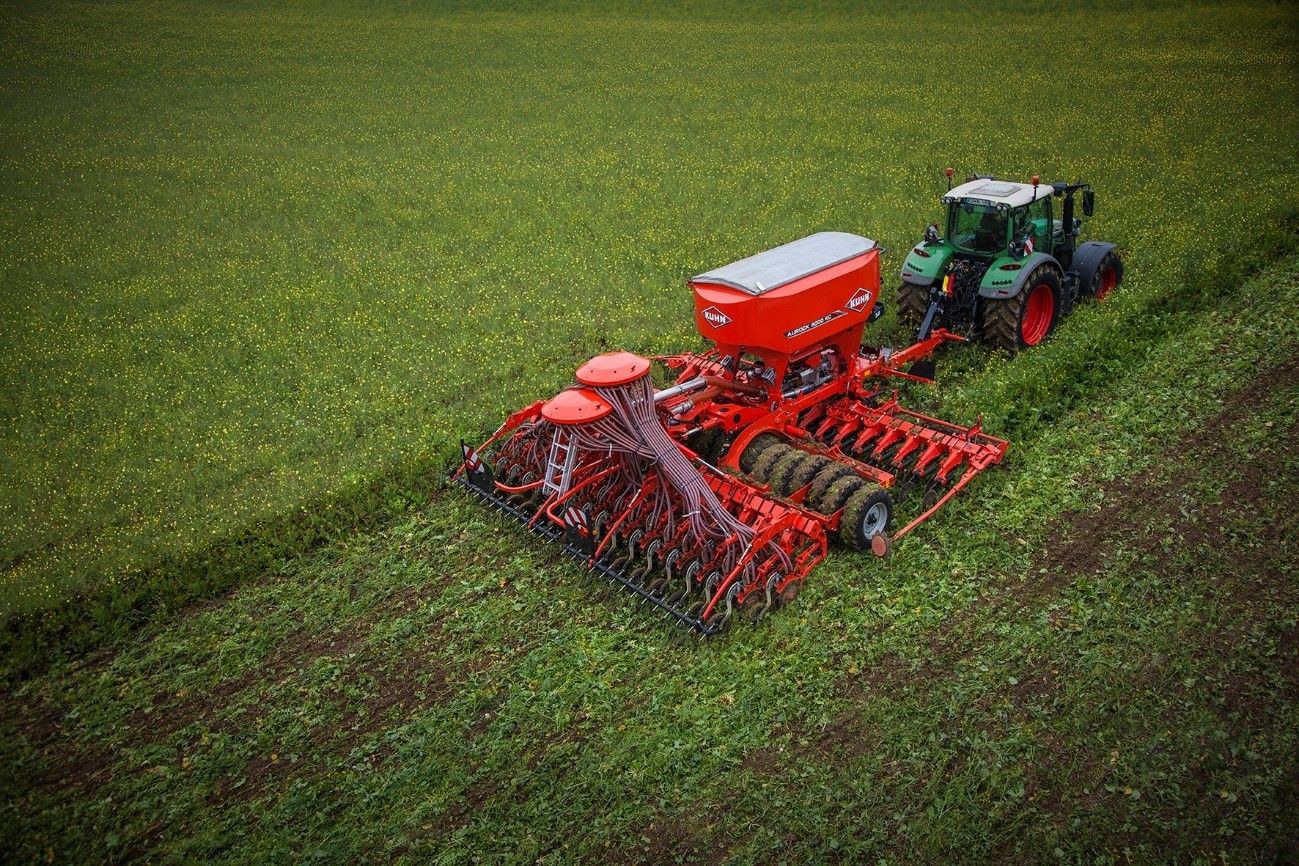 KUHN Farm Machinery will demonstrate its multi-purpose Aurock triple disc seed drill, the electric drive Maxima 3e precision drill, the Performer disc and tine cultivator with seeder, the Striger strip-till cultivator, and their versatile TF front hopper at Cereals 2021.
AUROCK will be demoed at 9am, 11am & 2pm daily
PERFORMER will be demoed at 10am, 12pm & 3pm daily
Aurock 6000 RC KUHN's Aurock has the versatility to drill in no-till conditions, including into standing cover crops, and is equally effective in minimal cultivation systems. At Cereals, the company will demonstrate the 6 metre Aurock 6000 RC, with dual metering and a 5,000 litre capacity split hopper.
Maxima 3 RXe The ability to carry out row-by-row seed rate variation is a good example of why KUHN's electric drive Maxima 3 precision drills are proving so popular with farmers and contractors. At Cereals 2021, the company will demonstrate the Maxima 3 RXe, an 8-row model with a three-section foldable frame.
Performer 4000 with SH 600 seeder KUHN's Performer non-powered, deep working disc and tine cultivator will be demonstrated with the SH 600 seeder as an attachment. A 4m model will be at the event, representing a single pass range that now also includes 3, 5, 6 and 7 metre versions. At the Cereals 2021 demonstration, KUHN's Performer will be fitted with the SH 600 cover crop seeding unit, which offers the capability of applying all types of seed, or fertiliser, at rates from 1 to 430kg/ha.
Striger 100 In response to the growing interest in minimal tillage cultivations, KUHN has developed its Striger strip-till range and will demonstrate this machine at Cereals 2021. Available from 4 to 12 rows, the Striger 100 is designed around a parallelogram system that allows all elements to operate independently, ensuring excellent ground following characteristics.
TF 1512 front hopper KUHN will demonstrate its TF 1512 high-capacity front hopper at Cereals 2021, positioning it as a versatile option for seeding crops and cover crops as well as serving as a fertiliser hopper. Hopper capacities of either 1,500 or 2,000 litres make this a combination option that can add significant efficiency to a range of operations.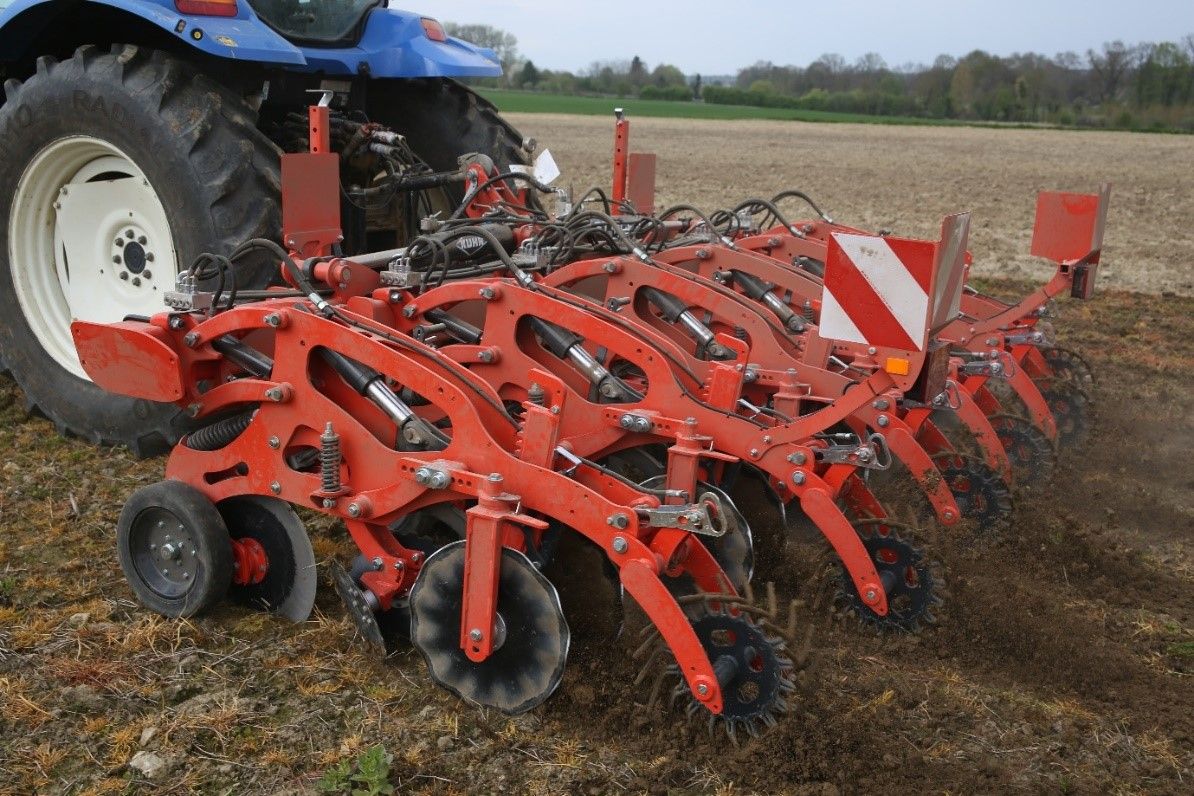 Check out the J. Brock demos to see their latest innovations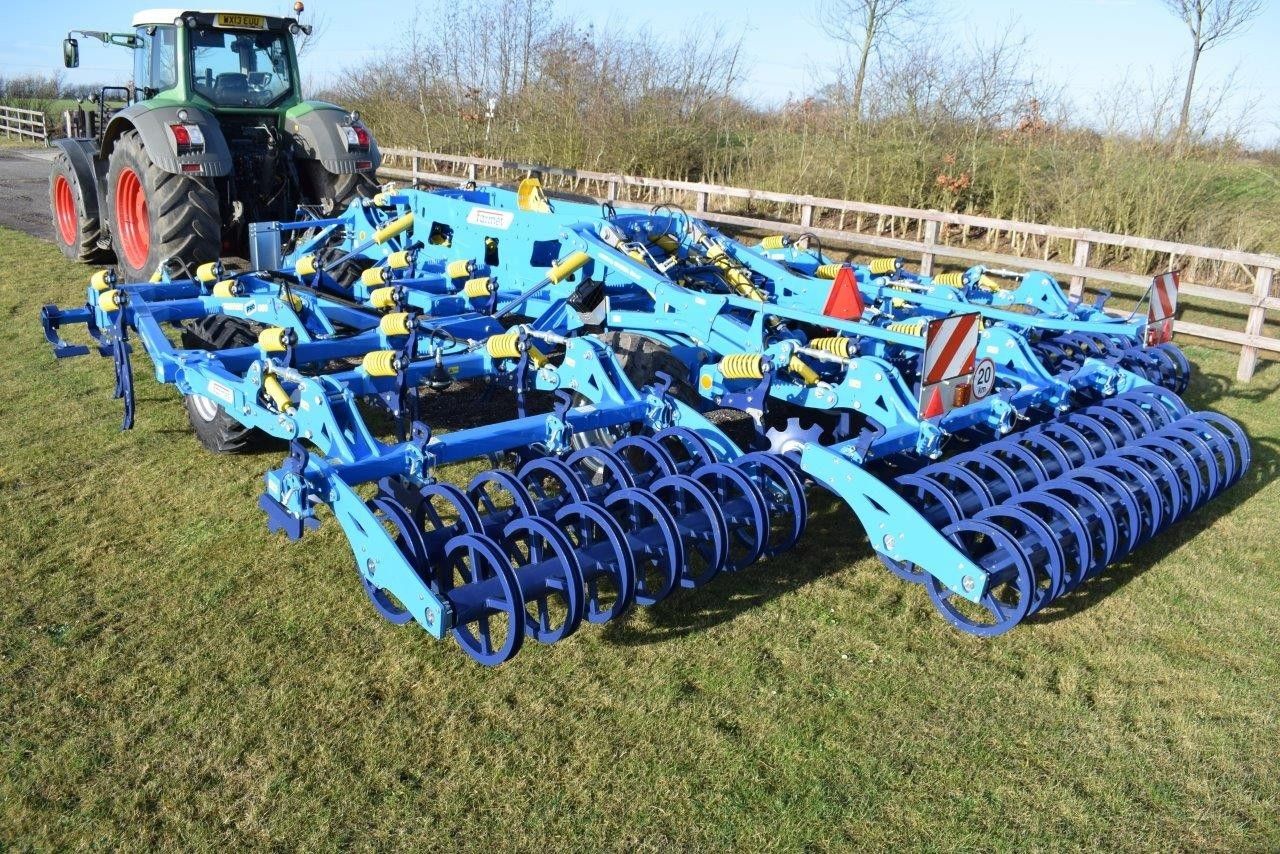 Farmet Fantom Pro The Fantom Pro is the ultimate stubble cultivator for working widths of up to 12.5m. Ideal for all weather conditions due to its multiple depth wheels and clever packer system, allowing adjustment of pressure, or removal of the packer altogether. A heavy duty tine with a breakout force of 280kg per tine at the point, and a tine spacing of 190mm makes the Fantom the machine of choice for post harvest cultivation for optimum stale seedbed germination and soil mixing.
Farmet Triolent 470NS Triolent mounted stubble cultivator is especially suitable for post-harvest stubble-breaking with intensive mixing effect. The three rows of tines allow maximum trash flow, and soil is worked up to the depth of 35 cm and thus can replace ploughing. Excellent ability for incorporating plant residues into the soil, at normal operating speeds.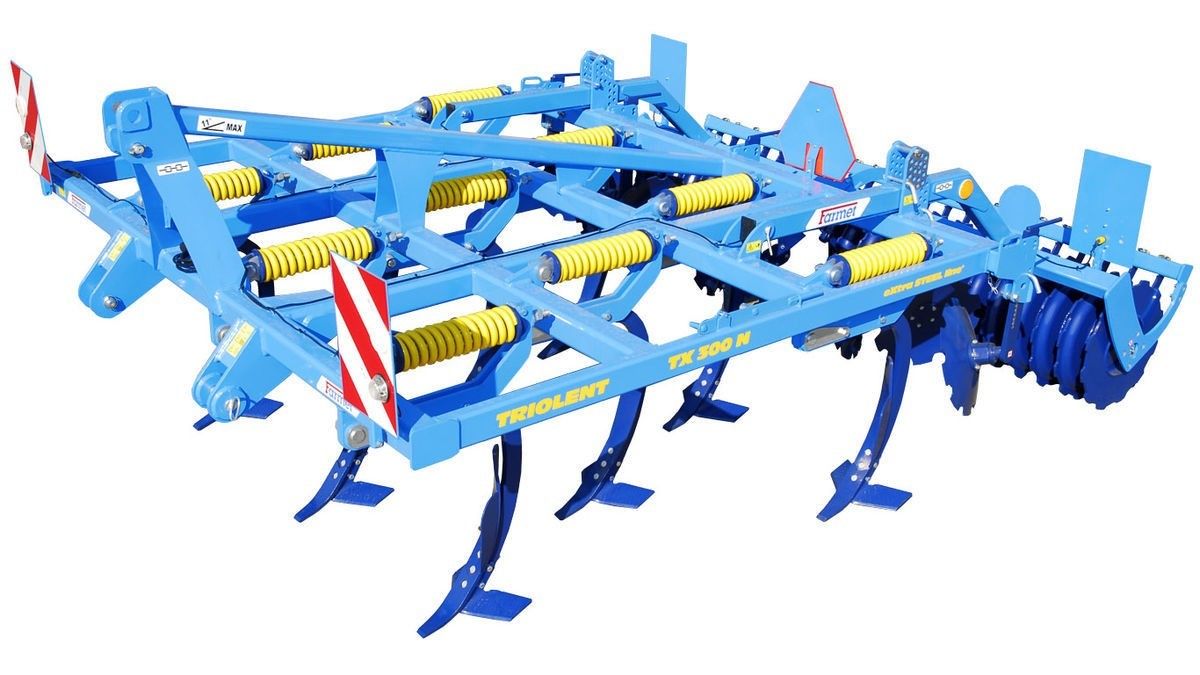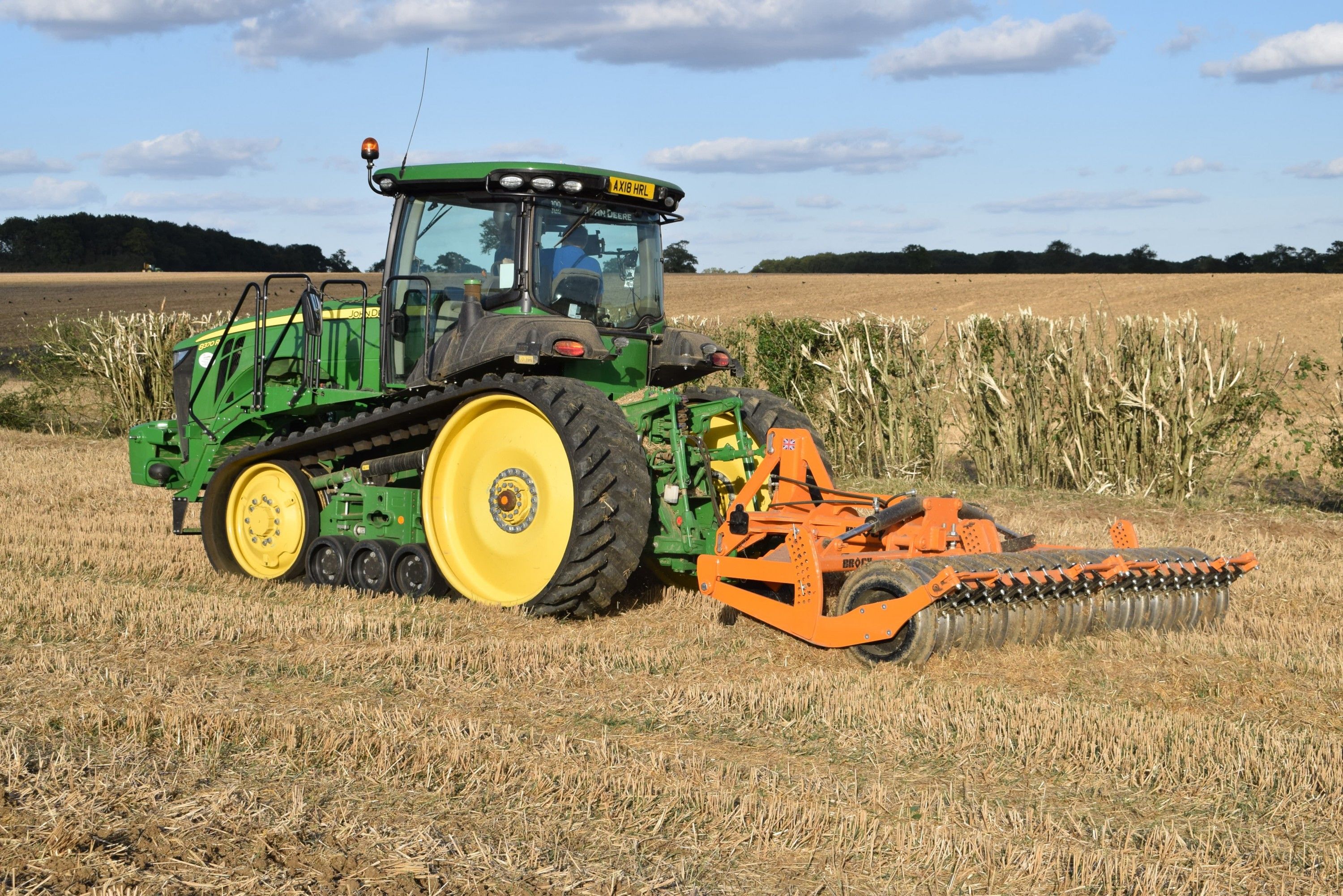 Brock Sub-V Well suited to farms needing a strong but simple mounted subsoiler, the BROCK Sub-VM range of mounted subsoilers retain the well known strength built into all Brock machines within a compact package. Available in sizes from 2.5m - 4.5m rigid or 4m - 5.5m folding to suit tractors from 150hp - 450hp.
Brock UnderBurst The UnderBurst 6m soil loosener, by design is very strong but also very compact. This compact design means that while it is rated for tractors of 400hp + in its 6m form, when folded up as a 3m machine it can be used on tractors of just 200hp.